When I recently created a brand new method of making almond milk cream cheese and posted it on Facebook, I was told I just HAD to try it with carrot lox. Thanks, Rebecca, this is what came out of my experiments 🙂
Totally unaware of my blog-doings, my husband came home with bagels the next day. You might be thinking "ehm, yeah…?" Well we've been together for 8.5 years and he's NEVER brought home bagels before, it's just not that common in Denmark. Heck, I don't think I've ever bought a bagel in a supermarket my entire life. So apparently there was no way around it, and my first experiment was a full blown cream cheese bagel with carrot lox and all the trimmings. Huge success!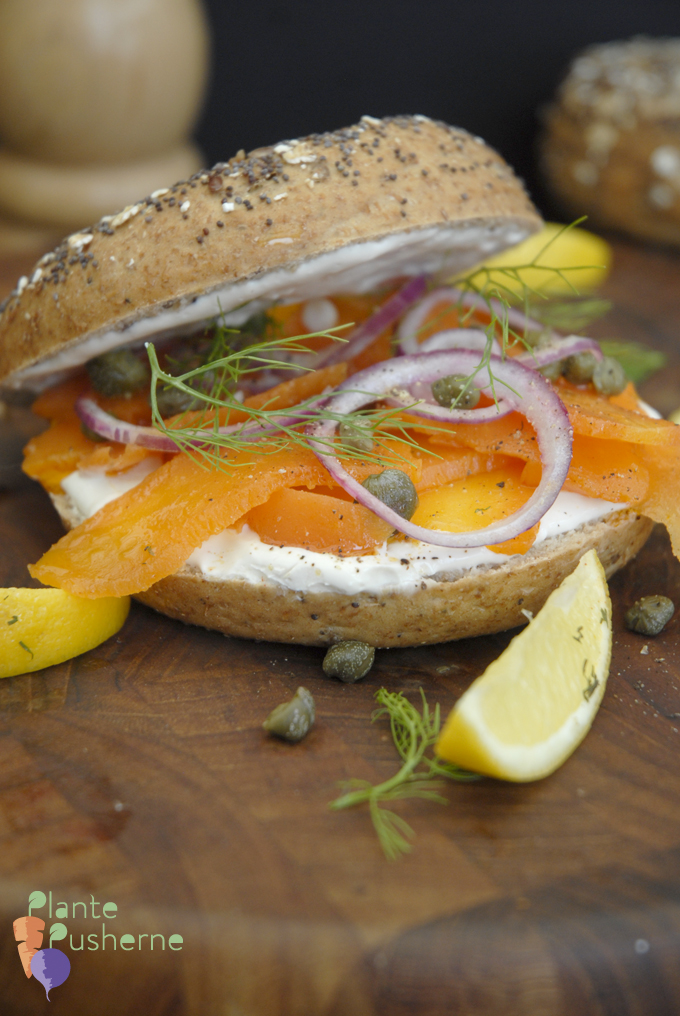 The recipe I used as the main inspiration was the popular salt-baked version from Olives for dinner. This method is very similar to how salmon is cured in the traditional Nordic way. I added seaweed and replaced the olive oil with an oil rich in omega 3s since these both add a ton of fishiness to the carrot lox. The coconut vinegar she uses is not readily available here, so I used apple cider vinegar together with a tiny dash of mirin (rice (wine) vinegar) which is very umami. I was overwhelmed by the loxy-ness of the final result. And serving it with the traditional lox trimmings like dill, avocado, capers, lemons, red onions, cream cheese, etc., of course only adds to the experience.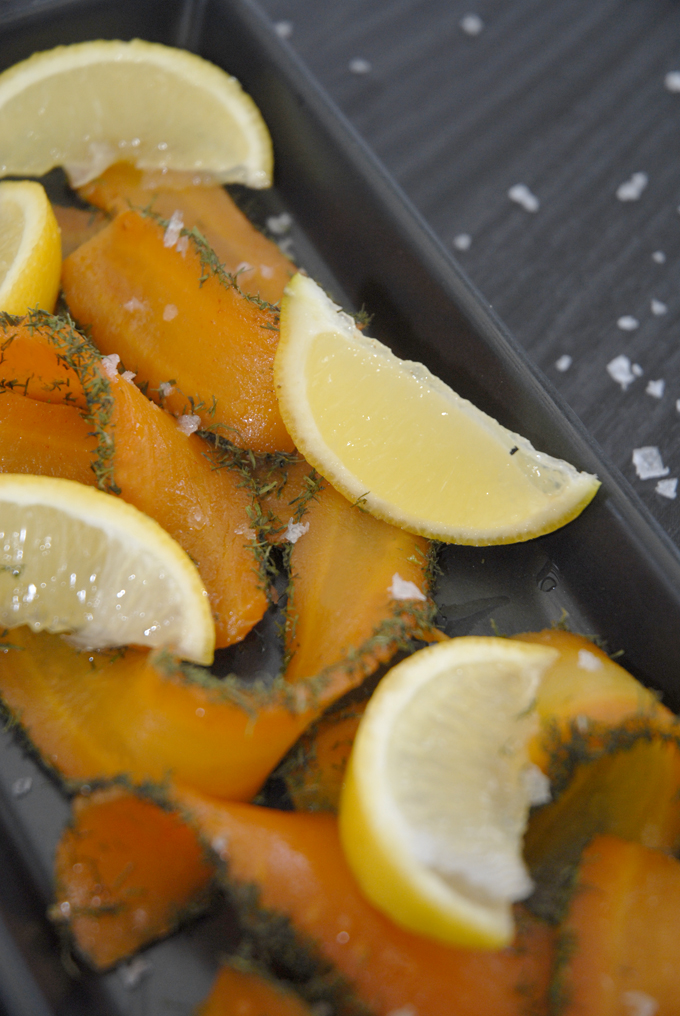 I'll have to admit I'm doubtful that you could fool an old fisherman, but that certainly doesn't ruin the recipe. Carrots have a surprisingly high umami-factor and a long preparation time – in this case, 'curing' – is commonly known to enhance this. It does exactly the same thing as the 'original' and works great in all the traditional combos I've tested so far. My favorites were probably the nigiri sushi and the canapes.
So before we get to it, let me just mention some of the reasons for henceforth basing your lox on carrots: Farmed salmon is so full of toxic chemicals that pregnant women are adviced to restrict or completely cut their intake; we have already eradicated about about 90% of the oceans original animal life; and, lastly but most importantly, there's overwhelming evidence that fish feel pain. Carrots? Not so much, so go ahead and grab a handful of those without harming either yourself or others.
These Carrot Lox Canapes are rolled up with my super smooth almond milk cream cheese,, carrots and avocado. I swear I meant to serve them for my husband after the photo shoot, but they disappeared on my way to serving them to him. (In my defense, he was WAY over in the room next door.)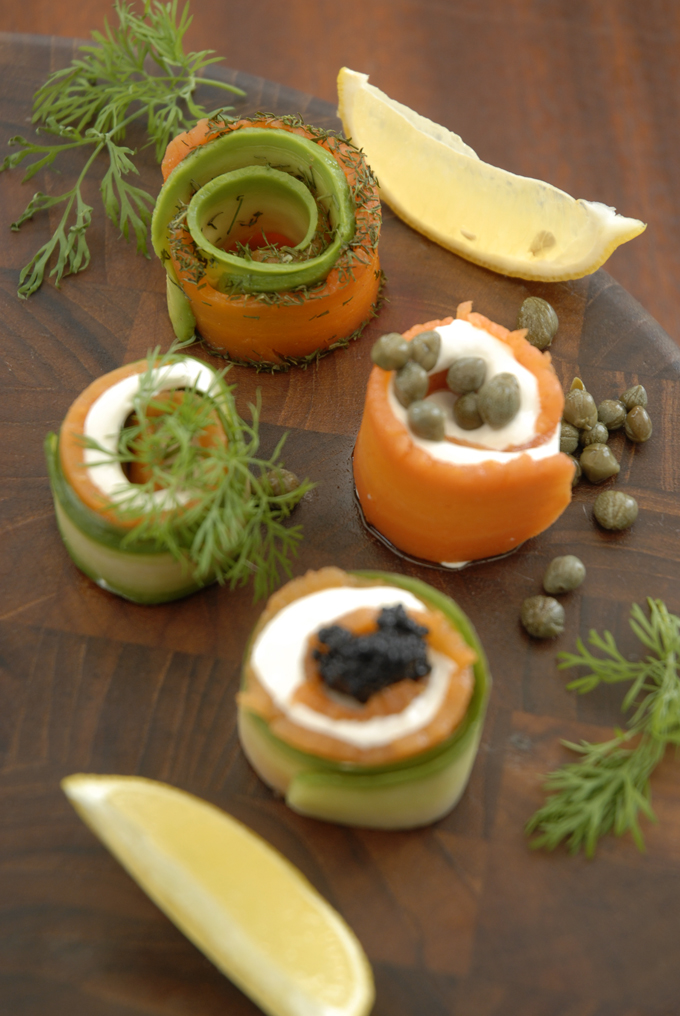 One of the traditional ways to serve lox in Scandinavia is with a sweet mustard sauce called fox-sauce (a name that could stem from the sourness of the sauce resembling fox-piss. How bad do you crave it now?!). Dip the sides of the carrot slices in dill and arrange on dense, dark, sour dough bread with my simple and popular gamechanging vegan butter and garnish with capers, lemon, fresh dill and of course – fox-sauce! Fox-lox anyone?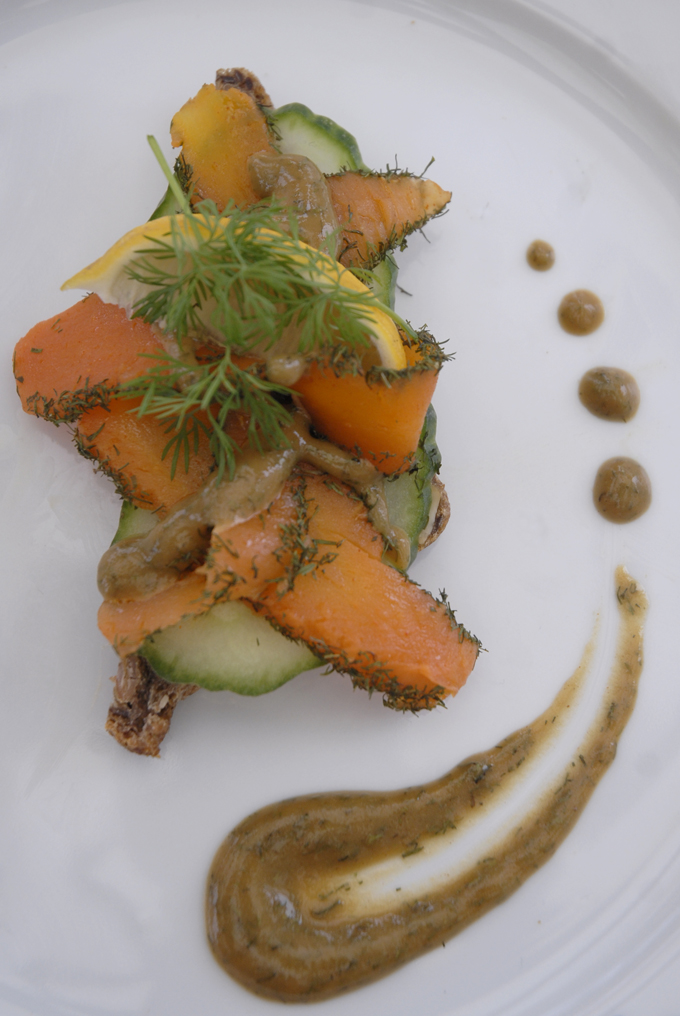 How to cure Vegan Carrot Lox
The moist but unpeeled carrots are wrapped in sea weed…

…
and baked completely covered in salt.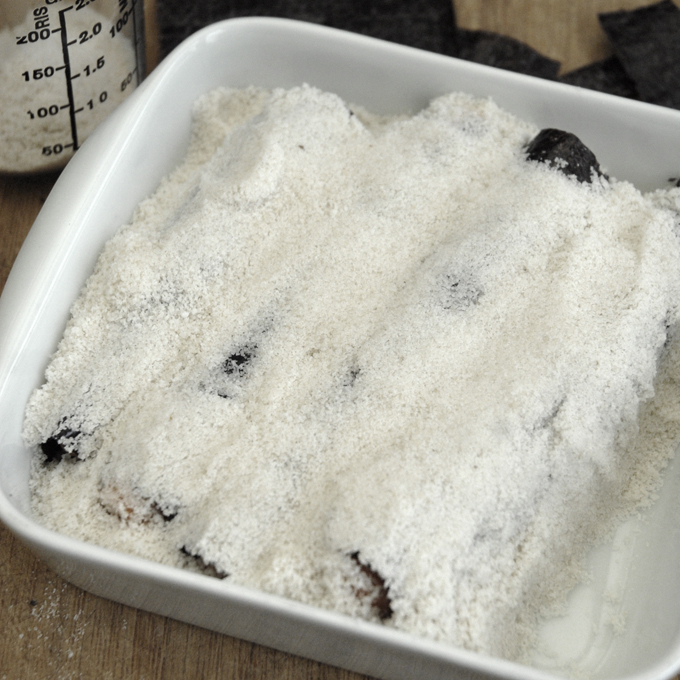 Now comes the hardest part which is peeling the very thin peel off the carrots. Use a small and very sharp knife for this. Using carrots that are smooth on the surface makes this step considerably easier – trust me, I learned that the hard way. This picture shows an unwanted carrot… see all the stripes in the unpeeled one? Avoid those when picking your carrots in the supermarket.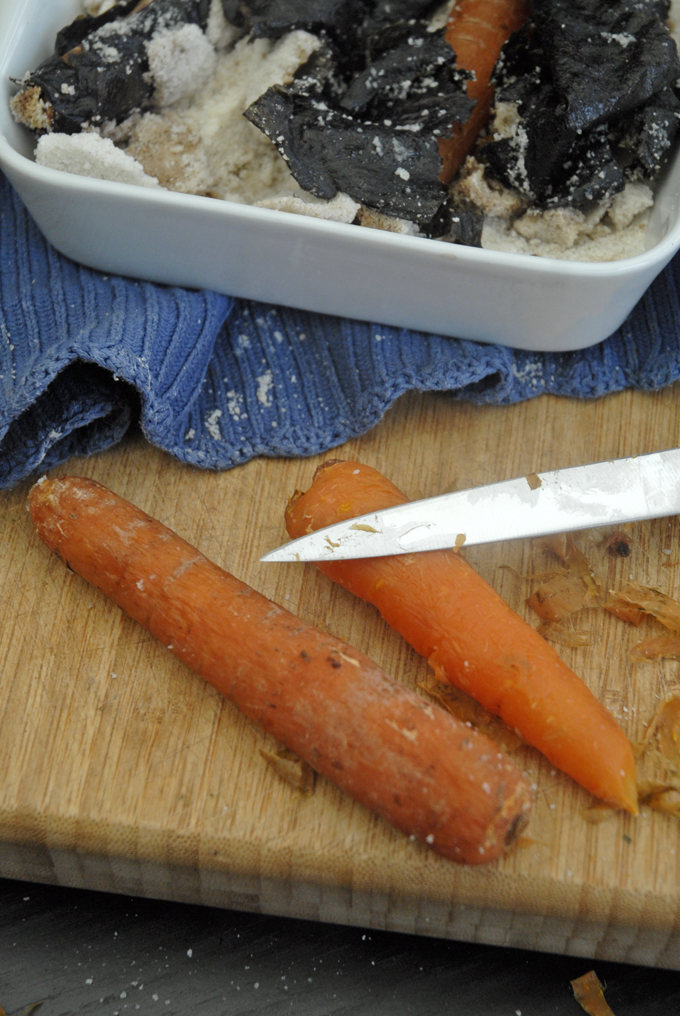 If you own a mandolin slicer, use that for cutting the slices. The first and last slice are perfect for nigiri sushi since they are rounded (see top blog post picture). Cut these about 5 mm and the rest even thinner before adding them to the marinade. You could eat them after a few hours marinating, but the acids will soften the carrots over the next few days, creating a unique tenderness that's really worth the wait. And hey, foods that can be prepared days in advance for a big event? My favorite kind!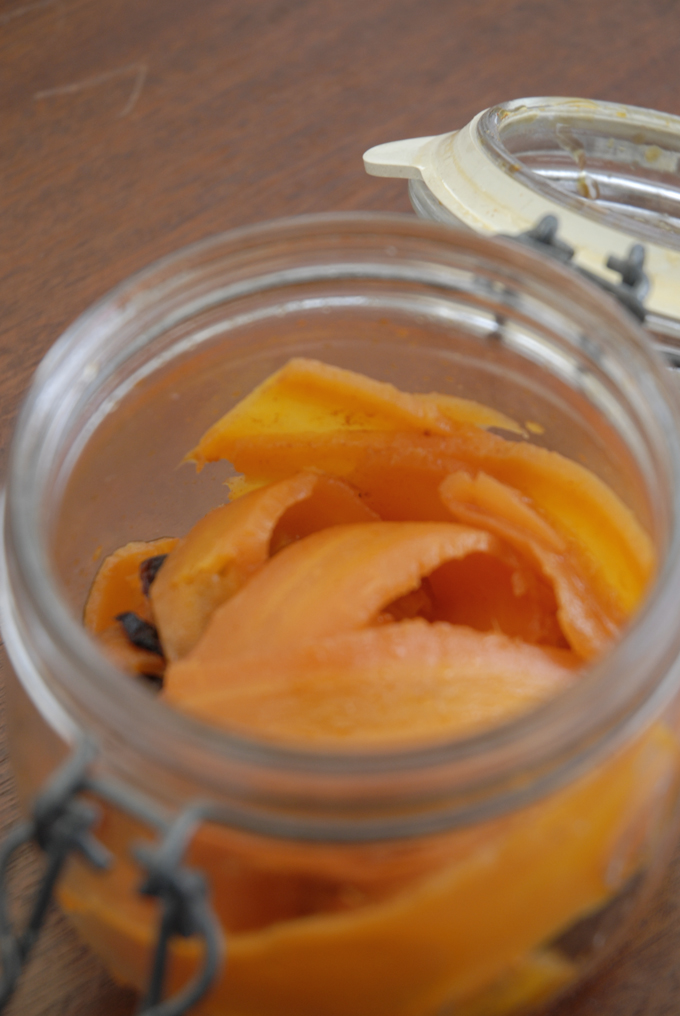 I have to add a small note for clarification: Lox is actually a non-smoked version of cured salmon, in the Nordic countries known as Gravad Laks. So when adding smoked paprika to your carrot lox, you are actually mimicking cold smoked salmon which in appearance looks the same as lox but differs flavorwise. And, with that out of the way, I give you my version of the Carrot Lox:
Vegan Carrot Lox - salt cured and omega 3 marinated
Note that the carrot lox should be prepared a couple of days in advance to achieve the best taste and consistency. The small amount of marinade might confuse you, but it's only supposed to lightly cover all surfaces, not drench the carrots. Otherwise they will get way to greasy.
Giver:
As many slices as you can get from your carrots
Ingredienser
THE LOX

4 carrots (about 1/4" wide, all in all 300 grams or 2/3 pounds)
1 cup salt plus some extra
2 nori sheets
MARINADE

1 tbsp cold pressed rapeseed or flaxseed (linseed) oil*
2 tsp apple cider vinegar or freshly squeezed lemon juice
1/8 tsp smoked paprika
1/4 tsk mirin (rice vinegar) optional
1 sheet nori
Metode
SALT CURING
Turn your oven to 400F (200C).
Wash your carrots, leave them moist and do not peel them.
Cut the 2 nori sheets in half and adjust them roughly to the length of your carrots. Wrap each carrot in a piece of nori and use a little water to attach the sea weed to the carrots.
Pour a ¼" layer of salt in the smallest possible oven safe tray that will fit your carrots side by side. Arrange the wrapped carrots side by side and cover them with the rest of the salt. Pack the salt tightly around the carrots to cover them up.
Bake them for 1.5 hours


MARINATING
Mix all ingredients except the last nori sheet.
Unwrap the carrots one at a time, peeling one before you unwrap the next. With a very sharp knife, make a shallow cut and gently pull off the thin outer skin using the knife together with your thumb. If too much skin is coming off it might be a good idea to let them chill a bit before proceeding.
Cut the peeled carrots into thin slices. The first and last slice can be cut a bit thicker (5mm) and used as perfect nigiri sushi (see blog post cover photo). Drop the slices into the marinade. Tear the last piece of nori into strips and gently stir it into the marinating carrots. Cover and refrigerate, at least overnight but preferably 2 days, to let the acids tenderize the carrots, offering the unique consistency that resembles cured lox.
Use for vegan sushi, cream cheese lox bagel, in a broccoli/pasta salad, for canapes, etc..
Tips
- Although canola oil is also made from rape seed, it is a highly refined oil that has been neutralized tastewise. So it won't give you the same fishy omega 3 smell as its cold pressed counterpart.
- Adapted from
Olives for Dinner
Vegan Mustard dill sauce (aka fox-sauce)
To serve fox-lox prepare a sweet mustard dill dressing like this one. For an HCLF (oil free) version, mix 1/4 C Dijon mustard, 1/4 C agave syrup, 2-3 tsps  of dried dill, 1/2 tsp of salt and freshly ground pepper. It'll be somewhat stronger than its oil-laden counterpart, but will give you a good idea of what fox-sauce tastes like.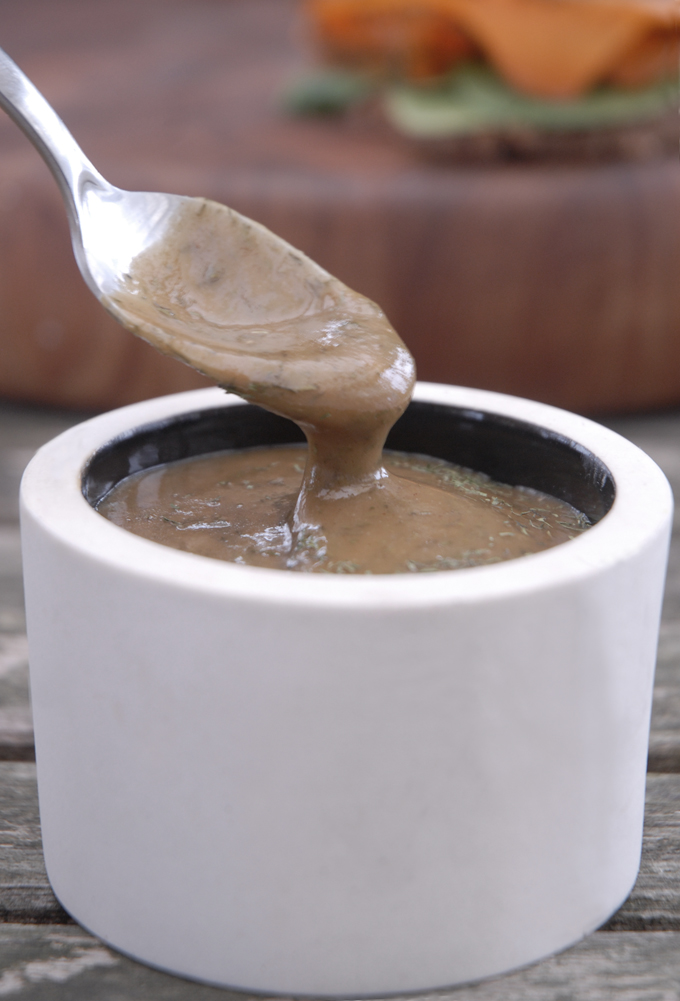 One of my readers asked to test the recipe before publishing and used it for making a version of another (Nordic?) classic: Spinach roulade, with almond milk cream cheese and lox. The report says they were a great success, even with the omnivorous.