So, vegan aquafaba butter – the original!
I'm writing this blog post in English, so I can share it with first and foremost, my experimenting fellow aquafabians over at the facebookgroup Vegan Meringue – Hits and misses. This is where we share our aquafaba (bean juice) related experiences and I highly recommend this community to anyone who's curious about the wonders of aquafaba – the biggest miracle of vegan cooking ever (?).
What is aquafaba?
Aquafaba is the name given to bean juice in general. And by bean juice I mean the thick water you normally pour down the drain when emptying a can of beans. It turns out this bean juice has amazing properties in the kitchen mainly as an egg replacer. I mainly use homemade aquafaba from when we cook chickpeas, but other beans will work as well. I haven't tried other beans myself though, so for now I'll just recommend chickpea water. If you haven't been there yet, go to the Facebook group that I linked to above and you'll discover a brand new world of vegan cooking. It is beautiful – I promise.
How to make aquafaba butter
My latest aquafaba hit is butter. I havent seen anyone else making it, but it's actually very easy. And that's not the only reason it's a game changer, it's also vegan, it's quick, it's no-special-ingredients aquafaba butter.
Here's a quick run through of the process:
It's partially inspired by peanutbutter and vegans aquafaba Mayo recipe where she emulsifies the aquafaba with oils. But instead of (liquid) oils I primarily use saturated fat from coconut, aka coconut oil, in order for it to solidify when chilled. I do add some unsaturated oil as well for a softer consistency, and some golden color. It works like a charm and I've been dying to share the recipe (which has been quit the struggle, since our computer broke down so I had to do all editing on a 5 year old micro computer which is slower than a herd of turtles and I'm sure I've grown at least a handfull of gray hairs from things like waiting 20 seconds for a reaction everytime I close a window. And can you imagine editing photos with technology just short of smoke signals? I don't recommend it)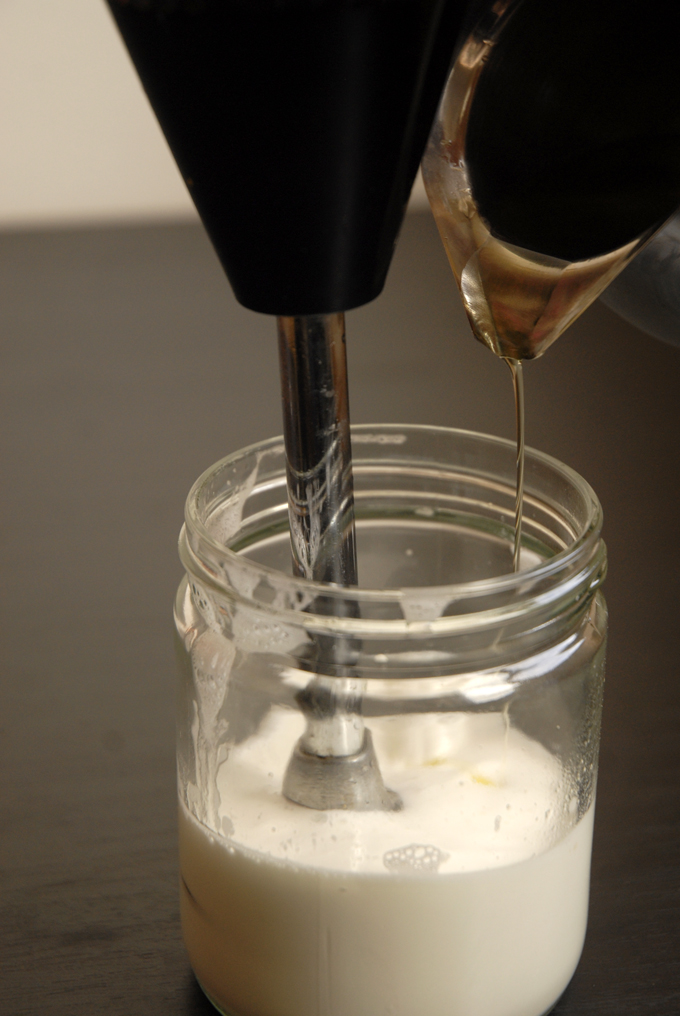 Well now you have it! It only takes about a minute to whip together this lovely vegan butter and then some time in the fridge to solidify. Be sure to drizzle in the oil REALLY slowly and blend it in as soon as it hits the aquafaba. So: No visible oil in the aquafaba at any time, aight? This makes for the best consistancy of the butter (=less flaky). You want it to be like blobby mayonaise when all oil has ben added.

I'm not a big fan of oil myself, but I like to offer my daughter a buttery spread on her 'rugbrødsmadder' (the most danish of foods, which is best described as 'an open sandwich on dark sour dough rye bread'). She tested a version I made with olive- and coconut oil and she loved it!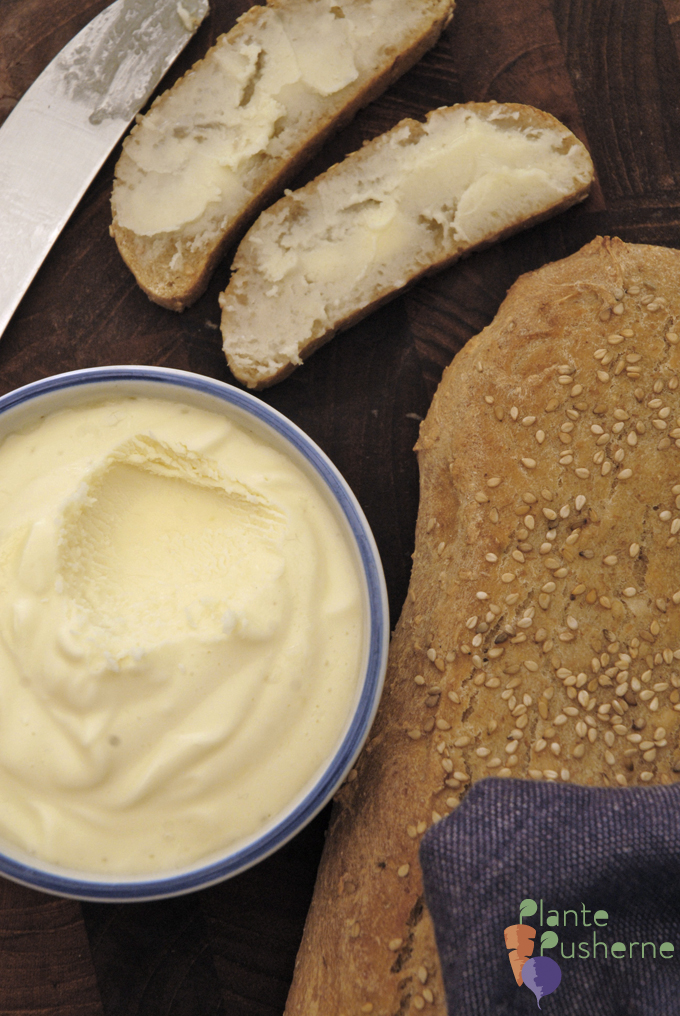 How do I get my aquafaba butter yellow?
The easiest way is to use a yellowish, almost orange oil for the liquid oil. I use cold pressed organic rapeseed and it has a lovely deep yellow color that will make you aquafaba butter look very buttery to the color. If your oil is not yellow enough, try to add just a pich of turmeric powder to the aquafaba and that should do the trick.
What oils should I use?
For the firm oil, you can choose between two: Either any brand of virgin coconut oil, which will leave some coconut flavour in your final butter or an odourless coconut oil which gives you the super buttery taste. I absolutely recommend you go for a higher quality oil or you might end up with something tasting more similair to margarine.
For the liquid oil I recommed you find a cold pressed rapeseed oil, which will give you a good flavor and a perfect colour. But canola, sunflower and others will work as well. Just note that whatever taste they have will be detectable in the final butter.
EDIT: My peeps over at the aquafaba Facebook group started calling it Nina's butter, which I was very flattered by, and then I sort of slided my own name into the name of the recipe. So you wanna make my day? Well go ahead and just refer to this as Nina's vegan butter – my proud heart skips a beat every time someone does that 😉
On top of that: Washington Post, recently published my butter recipe! I'm so proud, check it out here.
Excuse the Danish words popping up here and there, I'm not all equipped for posting English recipes, yet but this one couldn't wait 😉
Nina's Vegan Aquafaba Butter
Simple vegan butter with no special ingredients. If you sterilize your utensils with boiling water first, you prolong the shelf life of the butter - which should be about 7 days (except first time you make it, then it will be around 5 minutes from taking the first bite). You want the aquafaba to be slightly chilled and the oil to be around room temperature when you mix them.
120
ml (120ml is 1/2 cup)
INGREDIENSER
3

tbsp

aquafaba (

45

ml and yes, it's chickpea water)

7

tbsp

coconut oil (

1

dl - I prefer virgin coconut oil but you will taste the coconut. Odourless coconut oil will make it VERY buttery))

4

tsp

cold pressed rapeseed oil, canola or olive oil (

20

ml - or a similar oil that you like the taste of. Or try a blend!)

2/3

tsp

apple cider vinegar

(or freshly squeezed lemon juice or if you have,

1/8

tsp of lactic acid)

1/3

tsp

salt
SÅDAN GØR DU
Let the coconut oil melt gently until it's almost all liquid. Remove the pan from the heat and let the rest melt. Add your rapeseed or other preferred oil. Let the oil mixture cool to room temperature.

Pour the (just under room temperature cold) aquafaba in a narrow container with the salt and vinegar. Start blending it with an immersion blender/stick blender.

With the blender running, slowly pour the oils in, all while making sure all oil thoroughly incorporated before you add more. It should take a couple of minutes to add all the oil and achieve a thick mayo like consistancy. (If you live in a hot area I suggest you place the container on a bag of frozen peas when pouring in the oil, to help the process along)

IF you taste test it, know that it will taste pretty salty and tangy. This will be numbed a bit when it has chilled and remember, that you normally eat butter WITH something and not on it's own (right?) so it will be easier to make final judgements when spreading it on toast ... mmm ...

Pour it in a suitable container - DO NOT COVER IT - and put it in the fridge (or maybe a short while in freezer if you're in a hurry). It will take some hours for the butter to solidify, I recommend leaving it one night in the fridge.

Store it in the fridge, especially if you live in a hot area. Depending on what blend of oils you used (unrefined coconut is softer then the refined one) you should be able to spread it directly from the fridge. Leave it on the counter for 15 minutes to make it even softer.
TIPS & NOTER
- It is very important to not cover the butter while it solidifies. If you want you can put a clean piece of cloth over it, but do NOT put it in an air tight container (or it might take forever to reach solid, buttery state). Once solid, cover it as much as you like.
Note that when you spread it it will look a little flaky (in the truest sense if the word). Don't worry it will still feel velvety soft while melting on you tounge! And if you wipe it once or twice with your knife while buttering, it will loose the flaky look.
- I prefer to use cold pressed rapeseed oil, since it adds a buttery taste to the butter. But just be aware, that the oils will add flavor to the final butter.
- When taken from the fridge and warming up a bit, the butter might shed some drops of aquafaba. No biggie, It's just, I don't want you to feel awkward - mine does it to. Ignore them or gently remove them with papertowel.
- Using other than an immersion blender - please read FAQ below.
Now have fun with it! LIke this butter platter I made for a potluck: I used < href="http://www.amazon.co.uk/gp/product/B00BV47YU8/ref=as_li_qf_sp_asin_il_tl?ie=UTF8&camp=1634&creative=6738&creativeASIN=B00BV47YU8&linkCode=as2&tag=plantep-21″ target="_blank">these moulds for the parsley butter, and these for the neutral, heart shaped butter (I normally use them for making pretty banana ice cream popsicles). The rest are variuos moulds I've picked up at flea markets 🙂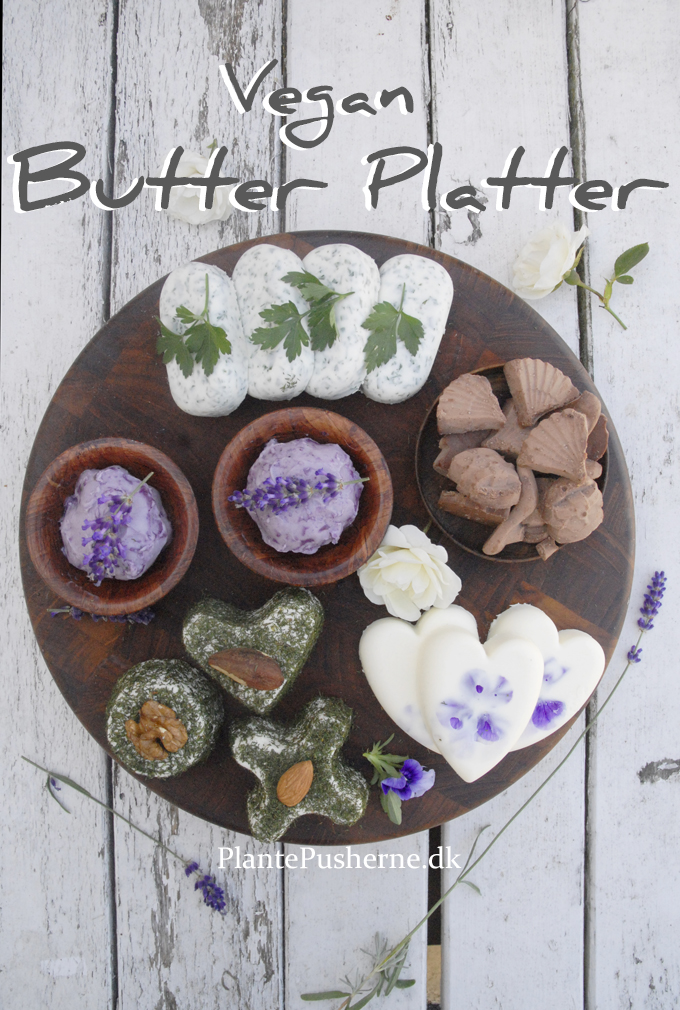 Clockwise from the top: Parsley butter (mix in chopped parsley), chocolate butter (leave out the acid, add cocoa powder and sweetener or simply melted chocolate), heart shaped 'just butter' decorated with edible wild pansy, dill/garlic butter (add minced garlic and dip in dried dill when solid – VERY popular), lavender butter (make an aquafaba-infusion with fresh lavender flowers for taste and some blueberries for color). If the butter wont solidify in the moulds in the fridge, put it in the freezer until it just hardens (20-40 minutes.)
AQUAFABA BUTTER FAQ – to answer question regarding the tutorial video
What does it taste like?
This butter mimics the taste of European/Scandinavian style cultured butter so it has a salty tangy taste and a beautiful velvety mouth feel and melts on your tongue. This is achieved by using an odorless (refined) coconut oil, apple cider vinegar, salt and preferably a cold pressed rapeseed oil, (not canola) or coldpressed flax oil as the vegetable oil. Other ingredients will yield a slightly different but still satisfactory result so use what you can get. Go to the comments section to read the reviews off this butter to get an idea of what other people say it tastes like. Some vegans will say this is better than Earth balance and VERY buttery and I've even had a person ask me how to make it taste less butter because they missed the taste ofmargarine. True story. I've had omnivores taste it and some will say it tastes like butter and other liked it but still said a didn't taste exactly like butter. So it depends on who you are. It definitely does not taste like margarine if you use a certain quality of oils. I personally prefer this butter over any available kind of vegan butter on the market in Denmark. If you find the taste of vinegar to overpowering, even after the butter has rested uncovered over night then add a little less next time.
Can aquafaba butter be used for baking?
How long does it last in the fridge?
It will last anywhere between 5 to 10 days maybe even longer. Once it has solidified you can cover it to prolong shelf life.
Can you freeze it?
I've had butter sitting in my freezer for almost a year and it was still spreadable and the taste was only slightly affected. Properly covered the taste won't be affected within the first few months.
Can I use anything other than immersion/stick blender?
This is what my readers have reported: Vitamix some people report having thrown all ingredients into the Vitamix and running it on medium speed (not high!) until emulsified. Electric beaters/hand mixer: this works for some (Exibit A). Use a narrow jar/bowl and make sure the oil is incorporated as soon as it hits the beaters. Foodprocessor: use a small one and simply drizzle in the oil slowly through the lid. Thermomix: use step 3 and if possible chill the bowl ahead. 
What kind of jar should I use when blending?
Use a narrow jar to make sure the immersion blender can mix all the ingredients effectively. Plastic or metal works best for transfering the cold from the ice bath.
Can't I just dumpin all the oil at once?
Nope. You have to drizzle it in very slowly for the emulsion to take place properly. If you're drizzling too much at a time there is a very big risk it will separate and you won't get the mayo-like consistency.
What is rapeseed oil? Surely you mean grapeseed oil?
Nope rapeseed oil – horrible name I know.
Rapeseed oil? Surely you mean canola oil?
Well yes and no. You can use canola oil, which technically is made from the exact same thing (rapeseed flowers) but I'm referring to organic coldpressed rapeseed oil which has a nice nutty flavor and orange color that will make your butter yellow. If you can't get your hands on that use whatever flavored or neutral tasting vegetable oil you like. Canola is used by a lot of people for this butter.
Does it have to be aquafaba from chickpeas?
No, you cant use just about any other kind of legume-aquafaba. Go to aquafaba.com for more info.
Does it have to be canned aquafaba?
No. You cant easily cook your own beans until tender and use the cooking water (aka aquafaba). You may need to reduce it to get thicker/more potent aquafaba like the one you get from a can.
How do I store my aquafaba butter?
How long will it keep at room temperature?
That depends on how well the emulsion went. Normally it will keep well for hours, maybe days. If you didn't manage to chill it during the process, it will be more prone to separating at room temperature.
Do I have to use an ice bath?
Som people have succes with getting the butter thick (mayo-like consistency) without the ice bath. But it's a fool proof method of getting the butter thick every time. Butter chilled in ice bath during mixing will have a better, less flakey consistency. If it works for you without the ice bath, keep doing what you do.
What's an ice bath?
A bowl of ice cubes with some water to help transfer the cold to the jar. You can use frozen peas, corn or the like in lieu of ice cubes.
How the f**k do I hold the jar still in the ice bath while pouring in the oils!?
If you don't have a third arm, you can add 1 spoon full of oil at a time and blend in between additions. Adding a little less water to the ice bath can also keep the jar from moving too much around.
What if I'm not able to produce a thin drizzle of the oils?
Then use the fool proof method of adding a teaspoon of oil at a time instead. This is an excellent way of keeping you from adding too much oil at a time.
Do you think I could replace the vinegar with lemon juice/lactic acid?
It will still work, but the butter will taste a little less buttery. You can also use lactic acid, but reduce the amount to adjust for the more acidic tasting lactic acid.
I thought oils were unhealthy. I follow a low fat high carb McDougall style diet – what about me?
Nowhere do I claim that my aquafaba butter is a health food 🙂 I don't recommend you substituting your morning ginger shot or banana kale blueberry and chia seed smoothie with aquafaba butter. But if you're already consuming some kind of vegan butter In think making your own butter with just a few simple ingredients that you yourself can choose the quality of – is a pretty darn good idea 🙂
Enjoy and thanks for stopping by 🙂
The post contains afiliate links. No extra cost for you and a small commision for me 🙂