I've ben making this recipe for a couple of years now and I'm wondering why moore people aren't  doing it (here's the original Danish blogpost). I'm sure others have made this discovery as well, but since the whole vegan community isn't raving about it, I see it as my duty to get it out there.I came up with this recipe after failing to make homemade tofu. I endend up with one part whey and one part, well not very tofu-y mess. Another recipe that came from this was my vegan feta cheese. But I was curious to see what happened if I simply blended up the curds and was generously rewarded when I ended up with this smooth, dreamy, creamy lovely tasting ehrm substance. A pinch of salt and sugar and it tasted quite a lot like sour cream or creme fraiche.
This sour cream can be used as a base for dips and dressings, on top of chili sin carne and in more or less all other recipes that require sour cream. Mind that it does't contain as much fat so it might act a bit different if used in baking.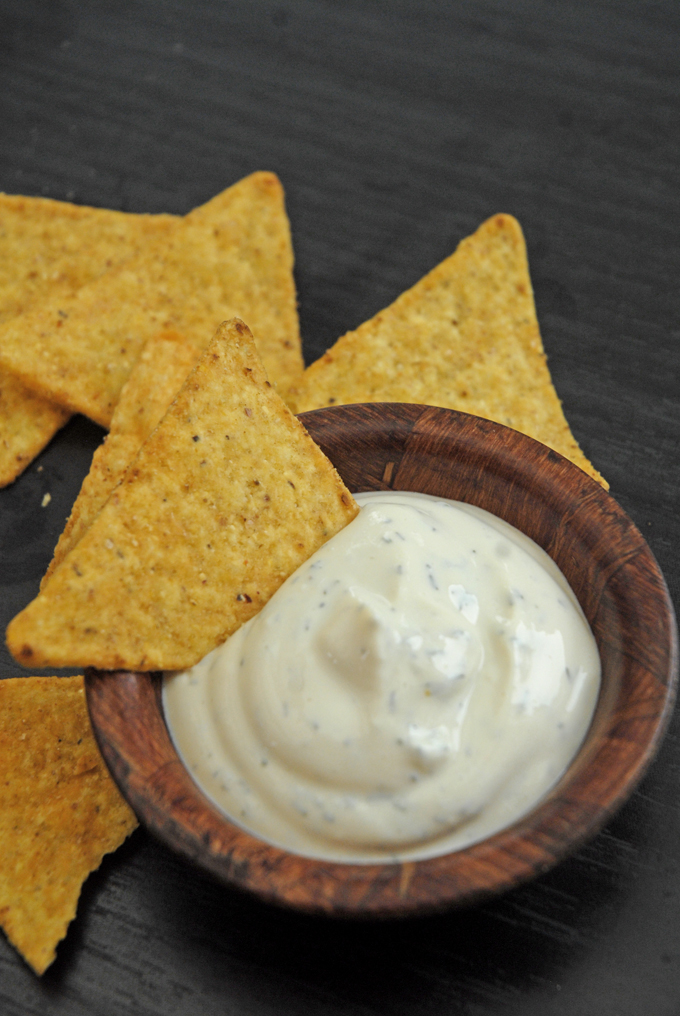 I rarely buy vegan sour cream substitutes, mainly bercause they contain a lot of fat (like around 79% of calories coming from fat) from added oils and often times palm oil. This recipe contains roughly the same amount of fat as tofu, which is actually not a little (in this example around 50%) but I like that it's not coming from added oils.
How to make soy milk sour cream
Essentially you make a failed attempt of making tofu 😀 This is done by curdling soy milk and separating the whey and then NOT pressing it but instead blending up the curds. Be gentle when pouring the curdled soy milk into a cloth lined colander. This way you help keep it separated and this makes it easier to remove the whey.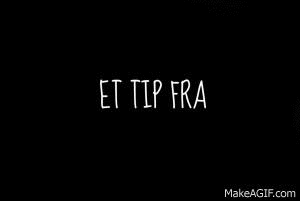 I find that the easiest way to get the whey separated after curdling is to then hang it like this from a kitchen cupboard and let it drip into a meassuring jar. If starting with 4 cups of milk, you should let just under 3 cups of whey drip off. This gives the remaining sour cream a nice consistancy, but you can always adjust this to your exact liking by draining moore or less. Draining away 1/2 a cup more of the whey will leave you with a very thick sour cream. Don't be put off, but top right picture here is what awaits you when unwrapping the cloth after dripping. A thorough blending with an imersion blender or a small foodprocessor will give you sour cream the desired consistancy. Keep blending for several minutes, it WILL turn smooth. Note that it will firm up moore on its own some time after blending and with refridgeration.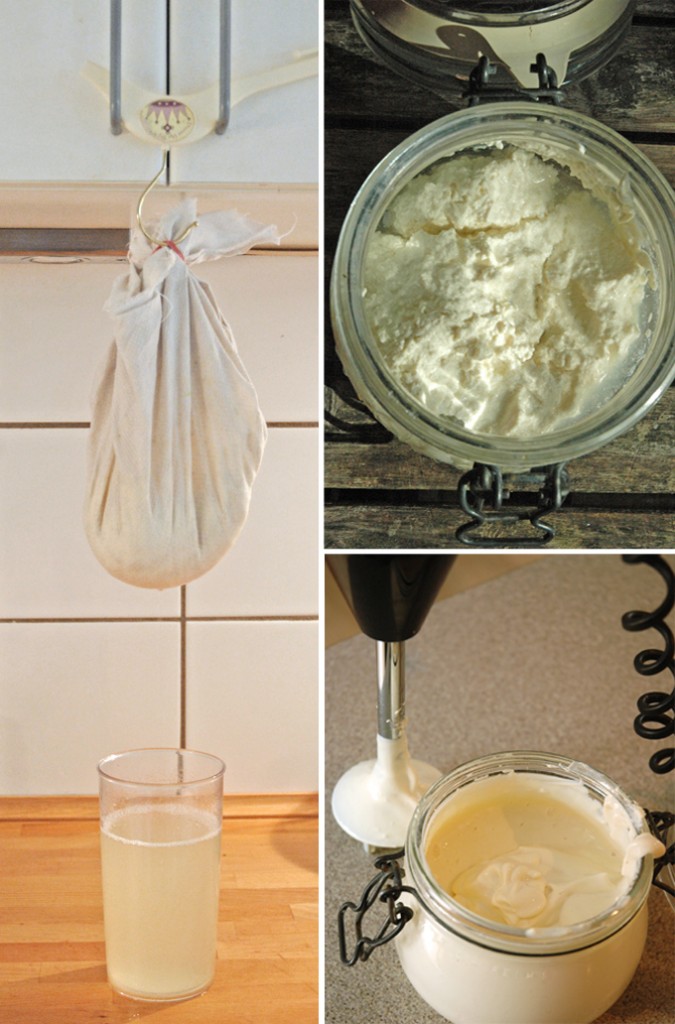 What soy milk should I be using?
I haven't tried homemade – but this should definetly work. For store bought first of all I personally prefer go for one without sweeteners as this can add too much sweetness to the sour cream. It might still work for you but hold back on the sugar listed in the recipe. Also avoid additives like gums, stabilisers etc. which are likely to prevent the desired curdling (aka 'separation'). An ingredient list containing nothing but soy, beans, water and salt is optimum. To test to see if your specifik soy milk will curdle, add just a tiny amount of lemon juicein a small container and pour a little soy milk over it. You should notice an instant thickening/curdling. This means the milk is very likely to work for making soy milk sour cream. Carry on!
NOTE: This is an original recipe of mine and if you wish to blog about my soy milk sour cream, please respect my work and link to this post instread of simply publising it on your own blog. Thanks 🙂 Nina
Soy milk sour cream or creme fraiche
Every vegan should learn this trick - you'll never have to buy sour cream again 🙂
Type:
Vegan, dairy free, simple and brilliant!
Giver:
450 ml (just under 2 cups)
Ingredienser
1 L (4 cups + 3 tbsps) of unsweetened soy milk*
3/4 dl (1/4 cup + 1 tbs) freshly squeezed lemon juice
2 tbsp water
A pinch of finely ground salt
1/2 tsp cane sugar or your prefered (neutral tasting) sweetener
Metode
CURDLE THE MILK
To optimize this step, heat the soy milk untill lukewarm. It should feel 'neutral' and be about 40C or 100F. Be carefull not to burn it.
Mix lemon, water, salt in a bowl. Pour the heated soy milk over while trying to fordele it different areas of the lemon mixture. Now just once or maybe twice stir the curdling milk EVER so gently to distribute the lemon mixture and encourage a more even curdling. This is what it should look like:
Let it sit untouched for 10-20 minutes with a lid on.
SEPARATE THE WHEY
In a cloth lined colander or tofu press slowly gently pour the curdled milk. Let it drip for a couple of minutes and slowly start to wrap the cloth around it to strain it. I like to hang it as illustrated in the blog post. When most of the whey has dripped away press some more off with your hands. Only clear whey should come out. If white stuff somes out, you're pressing too hard.
BLEND IT SMOOTH
Open the cloth. Spoon out the mushy mess into a jar and with an immersion blender mix it for a coulple of minutes untill completely smooth. A small foodprocessor can also be used. It gets firmer when chilled and also when you allow it to set after the blending. So it's best not to serve it straight after blending but allow it to rest - and chill - first.
Tips
-
The soy milk
can actually be replaced by
almond milk
if you follow my recipe for
almond milk sour cream
. Note that it is a bit more delicate to work with.
-
Sugar
can be left out, but remember that sour cream made from cows milk contains a certain amount of milk sugar (lactose) so in order for the soy milk sour cream to taste like sour cream I recommend you add it.
- It's the same with the salt, it is there to make up for the natrium that you normally find in cows milk.
- Regarding
coagulant/acid
: When making homemade tofu, apple cider vinegar is often used as a coagulant. But this leaves a very distict taste in the end product and though it may work technically, taste wise I highly recommend lemon juice. It might work if using the sour cream in savory or baked dishes. Som brands of lactic acid can actually be used for curdling and because lactic acid is the very same acis that gives cultured dairy, sour cream included, its acidic taste this is of course optimum.
How to obtain the 'real' taste of cultured sour cream
Add lactic acid
If this recipe is not authentic enough for ya, there are ways to make it even more convincing. One way is to simply buy vegan  lactic acid either liquid or powdered and add it to your sour cream. You use it to adjust the level of sourness, but not all brands will be strong enough to do the actual curdling without the help of lemon juice. In this case simply replace some of the lemon juice with a smaller amount of lactic acid (the brand I have is about 5 times as strong so 5 ml lactic acid replaces 25 ml of lemon juice)
Cultured vegan sour cream
Another way is to actually culture the sour cream after you've separated it. You do this by adding a starter culture before you blend up the sour cream mess. At this point, it should have the perfect temperature for initiating the culturing (about 40C or 100F). Then you wrap it and leave it in a lukewarm environment for 12-24 hours. THEN you blend and enjoy. If you can't find a vegan 'starter culture' do what I do: Adding any food grade probiotic supplement containing an active kind of acidophulus strand should work, like these ones (make sure you find a vegan brand!). This gives you a crazy realistic taste of sour cream, so I really urge you to try it at least once  – you deserve it 😉