You know how you hate it when the plant milk curdles in your coffee? Well by the end of this blog post I promise, you will be madly in love with those curds!
"Turn your enemy's weakness into your strength"
Or as in this case "turn the curds in your coffee into a yummy vegan sour cream". This is done by encouraging as much curdling as possible and then turn those lovely little curds into the creamiest yummy almond milk sour cream you could ever dream of. No need for emulsifiers, gums, stabilizers or even a fancy high speed blender. Simply plain freshly squeezed lemon juice and some old knowledge about (soy) milk curdling. And then you end up with this: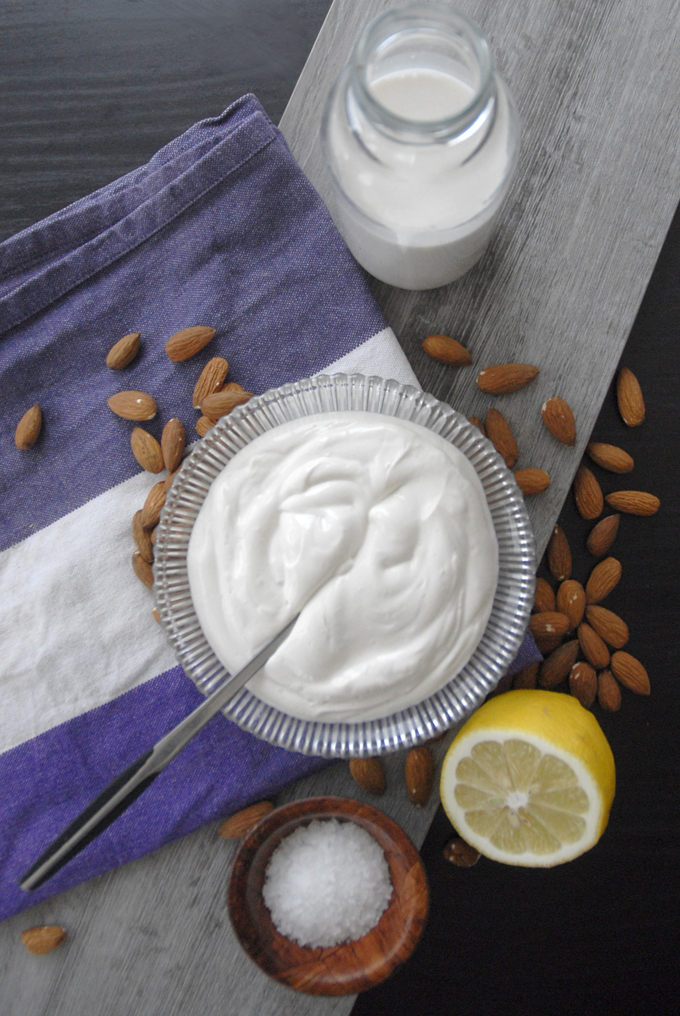 I've been making sour cream from soy milk this way for a couple of years and being reminded how almond milk also curdles prompted to finally tick that experiment of my never ending to-cook list. I have to say I am utterly impresssed at how well it works! The consistancy of the final almond milk sour cream is just smoother than smooth. Because of the higher fat content (compared to the soy milk version) it doesn't have tat slightly astringnet taste that the soy milk sour cream has. It is slightly sweet and might be better for using in sweet dishes, but I'll let you decide that for yourself.
Homemade or store bought almond milk?
If you can get your hands on (preferably unsweetened) almond milk that curdles easily, use this. This will normally mean no gums, stabilizers, emulsifiers on the ingredient list. To test if your milk will curdle, try it with a smaller batch with just a few tablespoons of the milk mixed with lemon juice. You should immediatly see some degree of separation of whey and curds, that gets even moore clear after a couple of minutes. If you can't get a storebought almond milk that'll curdle, don't worry, I have little tip for you…
There's no need to soak the almonds
If only almonds were smaller right? Then you wouldn't have to soak them for so long to get the most amount of milk from them. Well besides the digestion related and enzyme releasing benefits of an over night soak, you can actually do without. I tested and got the exact same amount of milk wether I soaked overnight or did as following: Pour the dry almonds in your blender. Cover them with just under half of the water from the recipe and blend for a couple of minutes. Using less water at this stage makes it easier for the blades to reach the almonds and crush them. There you go, tiny pieces of almonds that only require I minimum of soaking. Wait  about 30 minutes and unless you have a high speed blender, blend again for another couple of minutes. Now blend or mix in the rest of the water. Strain the milk through a nut milk bag or thin kitchen towel. I'm wondering if that enzyme process will maybe take place in the almond milk anyway if you let it sit for 12 hours prior to consuming? Now you have the beautiful white almond milk. One step closer to the dreamy, creamy, silky smooth almond milk sour cream…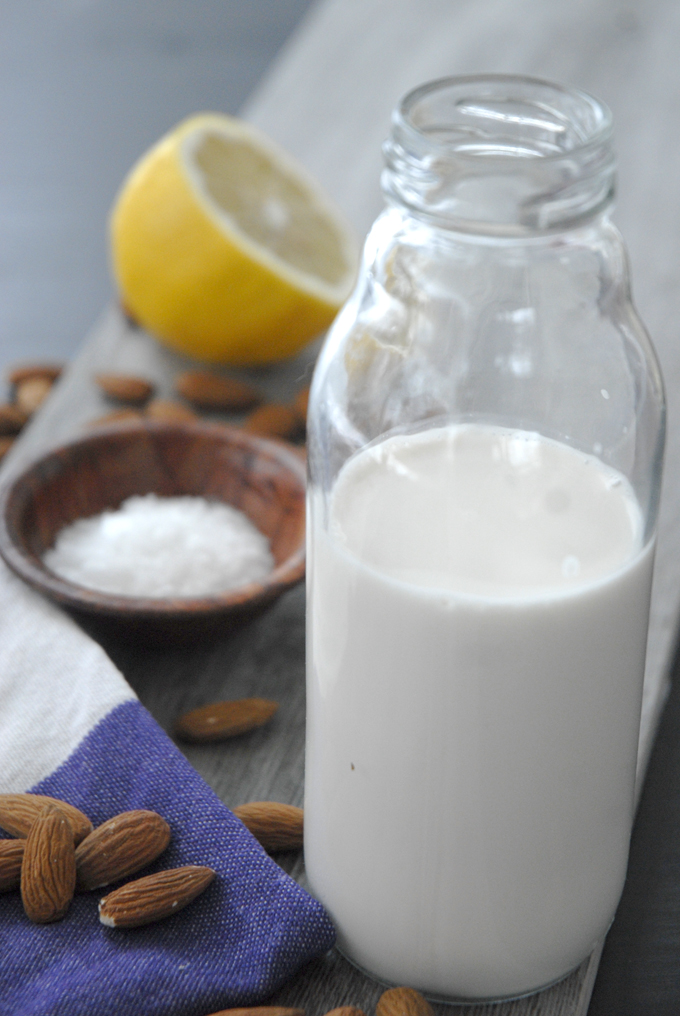 To blanch or not to blanch?
There's no doubt that removing the skins from the almonds will give your final sour cream a more delicate taste. The skins do impart a slightly bitterish taste. But to be honest I skipped this part in my first experiment and was still very happy with the result. As you can see in the pictures it's still very smooth and very white so I'm pretty sure it's just a matter of taste. In other words you won't be punnished for not doing it, but you will definetly be rawarded if you do!
Here's a visual walk through of the process from the curdled almond milk untill it's ready to be blended. Note that straining away the almond whey (the clear liquid) is NOTHING like in the previous step where you strain the pulp from the milk. You have to be VERY gentle when handling this mess or the curds and the whey will reunite and you'll have a hard time draining away the whey. Just pretend that it's asleep and you gotta do what you gotta do but without waking it.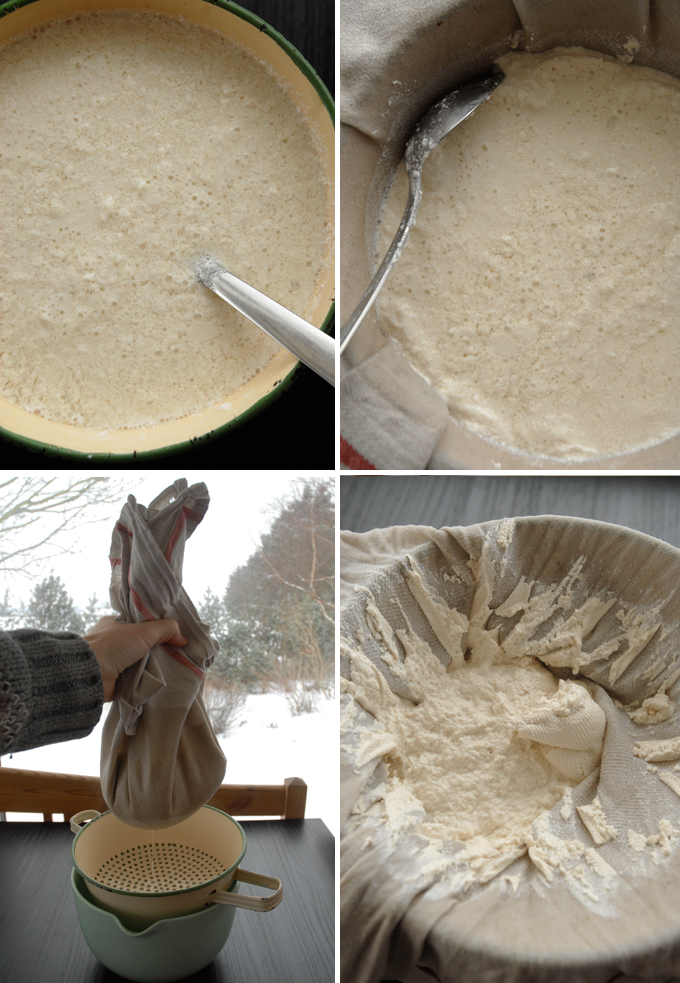 Here's how I like to do it by using a bowl that fits into your colander/strainer and you can sort of just tip it away from underneath the curdled milk: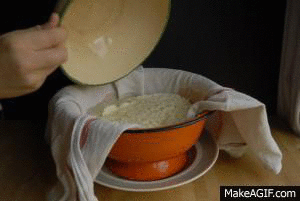 Read more about how I accidentally developed this recipe by reading the blogpost leading up to this one: Soy milk sour cream. And make that one if you perfer a soy milk base.

NOTE: This is an original recipe of mine and if you wish to blog about my almond milk sour cream, please respect my work and link to this post instread of simply publising it on your own blog. Thanks 🙂 Nina
Almond milk sour cream (vegan)
Silky smooth vegan almond milk sour cream
Giver:
7,5 dl (3C) of almond milk that turns into 2,5 dl (1C) of almond sour cream
Ingredienser
150 gr (just under 1 cup) almonds (blanched or not)
8,5 dl (3,5 C) of water for soaked almonds. For unsoaked almonds use 9 dl (3,75 C)
Pinch of salt
0,75 dl (1/4 C + 1 tbs) freshly squeezed lemon juice


YOU'LL ALSO NEED
A colander and either a thin cloth or kitchen towel - or simply a nut milk bag.
Metode
MAKING THE MILK
Using soaked almonds - do NOT discard the soaking water!
Cover your almonds with water yesterday and today drain the soaking water into a meassuring jug. Add water so you have 8,5 dl (3,5 C) of water all in all.
Now blend the soaked almonds witth just under half of the water for a couple of minutes, add the rest of the water and blend it again shortly.
Pour the blended milk into a cloth lined colander placed on top of a bowl or a nut milk bag to strain the milk. You should get 7,5 dl (3 cups) of milk.
Using unsoaked almonds
Place your dry almonds in the blender and add just under half of the water. Blend for several minutes. Let it sit for 30-60 minutes. This should soak the tiny almond grids.
Blend again for a couple of minutes and then add the rest of the water. Now blend it up shortly.
Pour the blended milk into a cloth lined colander placed on top of a bowl or a nut milk bag to strain the milk. You should get 7,5 dl (3 cups) of milk.
TURNING ALMOND MILK INTO SOUR CREAM
If taking milk from a bigger batch, remember to shake before you meassure it it so you don't risk working with just the thin, watery part.
Heat the almond milk untill very hot but NOT boiling. If it starts to boil you need to cool it since the heat will destroy the lemoon juice enzymes and make curdling less efficient (see Tips section). It should definetly be too hot to touch.
Pour the lemon juice in a bowl and mix in the salt. Pour the hot almond milk in while trying to distribute it evenly.
It should start to curdle almost instantly. GENTLY stir it with a spoon to distribute the lemon juice and allow for a more even curdling. EDIT: Now gently put the bowl in the refrigerator until chilled. This is what it will end up looking like:
Now we want to separate the whey from the curds that will become our sour cream. This is NOT to be handled roughly like when straining the pulp from the milk: In slow motion pour the curdled almond mass into a cloth lined colander or nut milk bag. (Handling it gently and slowly helps it stay curdled and allows for easier separation of the whey).
Hang it up to drip for a while and finally squeeze the remainder of the whey out. I like to let it drip into some sort of measuring equipment and when the whey reaches about the 5 dl (2 cups) mark, you can unwrap the curds.
It looks very messy at this stage, but nothing that a god 1-2 minutes with an immersion blender or a very small food processor won't fix. Blend untill completely smooth, adjust the taste with tiny amounts of sugar and salt to your liking - and enjoy!
or press it even harder and proceed to making an amazing almond milk cream cheese.
Tips
-
Trouble shooting/first aid:
If you followed the recipe without any substitutions or alterations and you feel like your milk did't curdle at all within 10 minutes, don't be discouraged. Proceed with gently pouring it into a cloth lined colander or press and let it drip for 1 hour. It might very well still separat, just not as easily as with good, clear curds. Proceed with blending it as described.
- If you don't trust the blending ability of your blender and own a coffee grinder, use this to turn the almonds into almond meal. And make your almond milk from this. Note that you'll need 150 grams or 1,5 cups of almond meal.
- In my experience the almond curds are more fragile than soy curds. For this reason I don't recommend doubling or trippleing the recipe. The bigger the batch you have to handle the more you'lll unintentionally mash it up and reunite the whey and the curds, This makes it very difficult to strain awway the whey.
-
Lemon juice substitutes
: The curdling will also take place if you use a vinegar. But this will NOT taste very good if eaten straight. But if the sour cream is used in baking or cooked in savory dishes it might be palatable. I recommend an apple cider vinegar.
- What to do with the leftover pulp from making almond milk?
Throw it in a bread or cookie dough. It won't last long in the fridge, so freeze or dehydrate it for prolonged shelf life. Get more creative inpiration from
Pinterest
or
Google
.
And of course you can spice it up and use it for the smoothest oil free cream cheese you ever had –
almond milk cream cheese
. I let it sit with the spices overnight. I could swear it melted in my mouth…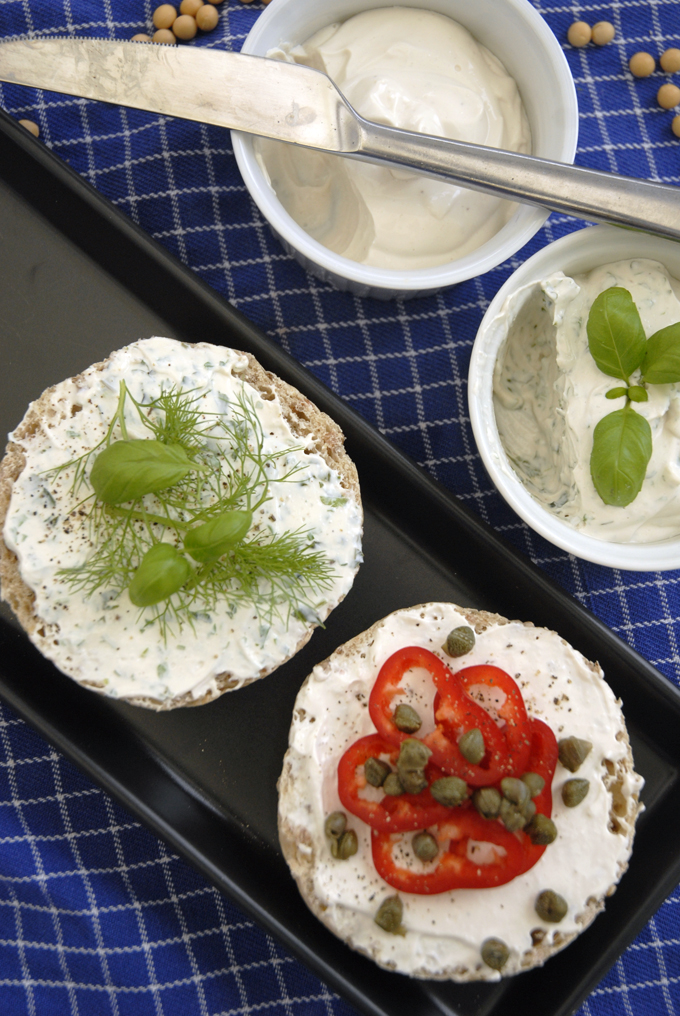 Gurl, look at that body…