AF is  of course an abbreviation of aqua-faba (yes, the water from a can of beans).
But I'm gonna be honest and say that just to make sure aquafaba was actually making a difference in this recipe, I went ahead and also tested it with soy milk and with water. It turns out this actually works okay, but aquafaba does make for the most crispy result and its easyer to get the flour to stick. So if you sub aquafaba the meaning of the abfreviation in Crispy AF French Fries can be found in the Urban Dictionary.
Im very much into low fat and oil free cooking, but I'm even more into potatoes. So I'll always welcome a tasty combination of those two. Last year I added a recipe for what I call Shaken Potatoes where you steam the diced potatoes, coat them in flour and bake them. They get super crisp and I've been wanting to do something similar with fries. But the 'shake' part of that recipe doesn't go well with the fragile (when steamed) frie shape. and without steaming them, potatoes don't easily take on flour. So when people in the aquafaba test group started using 1) aquafaba as a replacement for oil in baking and 2) aquafaba breading for frying tofu I started thinking, well maybe aquafaba in some sort of combination with clever breading can help me crisp up those fries without any oil. (I tested using nothing but aquafaba on oven baked wedged potatoes and though it's super for getting the spices to stick, it won't give you the crispy surface)
I stumbled upon several people mentioning rice flour giving the most crispy result for breading so this was my first choice for the breading. And I went a little something like this:
RICE FLOUR (+salt) > AQUAFABA > RICE FLOUR
If you pad the freshly cut fris with a clean papertowel the first round of rice flour will sit neatly like this: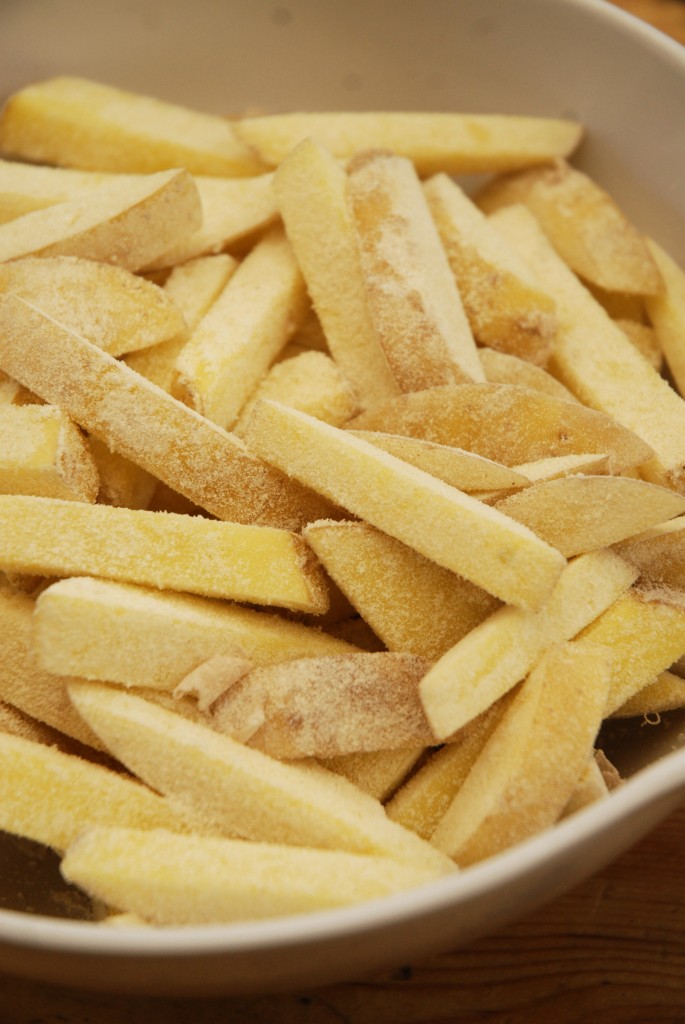 After a layer of aquafaba and another dip into the rice flour, they're ready to go into the oven: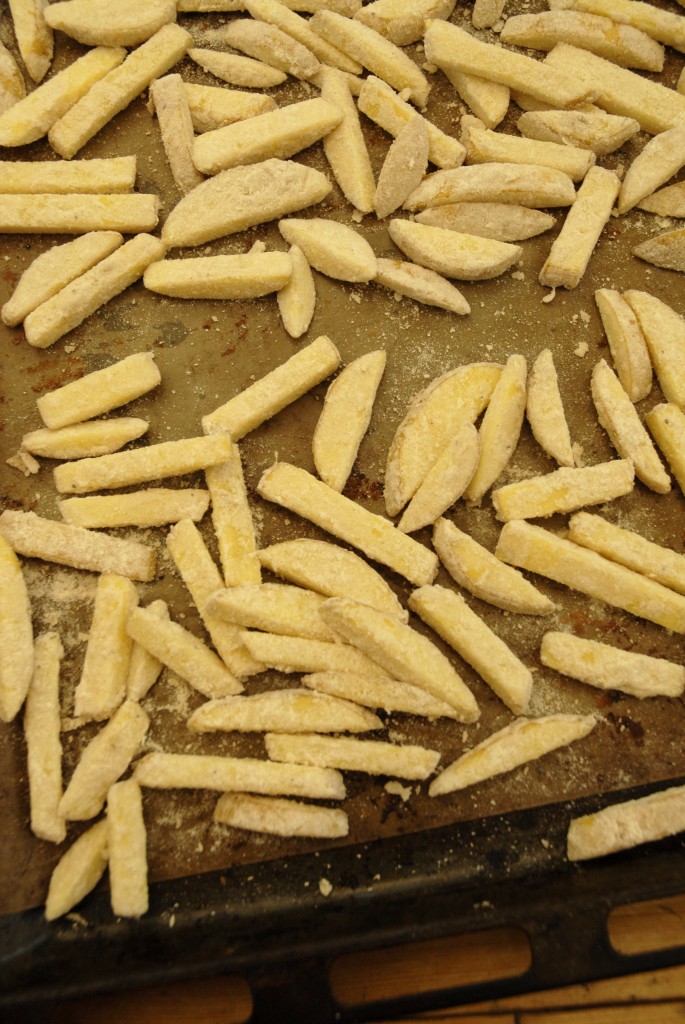 And there you have it: Crispy AF fat free french fries that go well with any McDougall, TSS, raw till 4 or other low fat way of eating.

Crispy AF Fat Free French Fries
Ready for som seriously crispy Fat Free French Fries? The secret is in the breading: If theres too little, they wont crisp as much and if there's too much you'll get unwanted cakes of flour. LEave space around each fry to allow them to get really crispy
Type:
Low fat, oil free, TSS, McDougall, raw till 4
Ingredienser
1,7 lb (800gr) potatoes (will fill 1 tray)
3 tbs (45 ml) rice flour
1,5 tsp finely ground salt
4 tbs (60 ml) quafaba (can actually be subbed with water or plant milk for an okay result)
1/3 Cup + 1 tbs (1 dl) rice flour

Optional: Garlic powder, smoked paprika, chili or other spices
Metode
Slice the potatoes in frie shape (smaller=crispier)
Pad them dry in a clean kitchen towel.
Put them in a big bowl and sprinkle with the 3 tbs of rice flour mixed with salt. Give them a good toss untill all surfaces are coated. And pour them out on a tray or plate so you can use the bowl for the next step
FOR AN EVEN COATING I SUGGEST YOU DO THE NEXT TWO STEPS IN 1/2 BATCHES
Wipe the bowl clean from the flour and and pour (1/2 of) the aquafaba into the bowl. Put half of the potatoes into the aquafaba sort of folding them around to get them just coated. Go easy on them in order not to mess up the coating.
In a new DRY bowl now sprinkle some of the last rice flour together with the aqufabacoated fries. Gently turn them just a couple of times or until all surfaces seem coated in a single layer of flour. (Use SLIGHTLY more flour if there are a lot of empty surfaces)
Pour the onto a baking tray with parchment paper and repeat with the last half of the potatoes (again using the wet bowl for the aquafaba coating and the dry one for the last flour coating.)
Put them in the oven and bake at 400F/200C for 40-50 minutes. I suggest flipping them after 30 minutes and remove the most brown ones while you are at it.
Tips
- Rice flour can be subbed or supplemented with other GF flours but note that rice gives the crispier result.
- Aquafaba can actually be subbed with water or plant milk, but they will not be as crispy
Sadly one tray is rarely enough and putting a double batch in the oven might cause them not to crisp up due to the high humidity. That's why I prefer to make these fabulous crispy fat free french fries when I'm home alone – cause then I can have the whole tray to myself 😉 Enjoy!