Like others of my more experimental recipes, this one required some work, but this time, a lot of it was research. Last year was my first time making dandelion honey and though my husband was impressed with the taste, he was disappointed that it didn't spread on toast like good old Scandinavian creamed honey. So I knew my work wasn't done. I can proudly say that it is now. So Honey, here's your Hunny♥️
Does it taste like honey?
Yes! Follow my recipe for dandelion honey. It has some details, tips and tricks that I find other recipes are leaving out, so follow it for a result that will definitely taste like honey.
If you have a favorite dandelion recipe or even made it already, by all means go ahead and use that 🙂
This hunny is sweet, very aromatic – and smells like flowers in bloom! Considering there are thousands and thousands of different variations of honey, this could very easily be just another version.
I let my father in law (a professor in insect pathology) taste it. Whenever I have him taste vegan versions of foods he will be the first to say "it's nice… but it's not really like [insert original]". When I let him taste the Hunny he simply said:
"Well, that… sure tastes like… some good old flower honey!"

What is creamed (aka set, churned, candied or whipped) honey?
Contrary to what some believe creamed honey is not liquid honey that has been whipped or churned airy. Next time you see a recipe on Pinterest claiming you can make creamed honey in five minutes by whipping it, please refer them to this or any other post clarifying the matter. If you whip honey, sure it gets lighter and a little thicker because you fill it with little bubbles of air, and the light color and slightly thickened texture makes it resemble creamed honey. A little. (And probably also enhances oxidation and destroys some of the fragile delicate scents) But it does not creamed honey make!
Creamed honey is a honey that has undergone a natural process of crystallizing with tiny, tiny crystals leaving it firm, silky smooth (sometimes slightly melt-in-your-mouth-grainy), spreadable and – well – creamy. So technically, it's crystallized, but I will admit the word creamed describes as much better as there is absolutely no grits in a perfectly crystallized, well creamed, honey. So the word crystallization can be a bit misleading, but now you know:
Crystallization – it's not all bad! And size DOES matter

On churning/stirring
Some of the misconception might stem from the fact that stirring/churning is often used in the process of creaming the honey. But this is merely a way to control the crystallization, it is not the churning that makes the honey set. I am beginning to think that the stirring also encourages crystallization, at least under certain circumstances like when making a high sugar content syrup. It would make sense (read my chapter on sugar and crystallization below). So if you feel nothing is happening with your honey, it might be a good idea to start stirring it regularly.
How often? That depends on the time it takes for your batch to firm up. If it's 10 days I would stir once a day. If it's 24 hours I would try to do it every couple of hours or whenever I remembered. (And so if you really want to know before hand, you'd have to make a test batch to see what you are dealing with). Stop the stirring, once the Hunny is so firm, it won't collaps after you 'disturb it'. A gentle one minute stirring each time should suffice. Do it by hand or maybe with a handmixer on lowest speed. Use clean utensils!
Why creamed honey?
In Scandinavia we have a tradition for creamed honey. I have a theory as to why this is. If you live in a warm climate the honey (which is liquid when taken from the bees) will keep liquid for a long time because of the warmer temperature. In Scandinavia with our cold temperatures, the honey will naturally chrystalize more easily. So apparently we have found a way to control the crystallization process so we won't get uneven or split honey, but simply perfectly crystallized creamed honey which will stay at the same consistency without further undesired crystalization when kept at average temperatures.
The magic of sugar and crystallization
Sugar has the ability to recrystallize on its own after you have melted it. If you add crystals to syrup that you have melted, the melted sugar molecules will look at the crystals and go "hey we want to look like that too!" And soon all of the syrup will have recrystallized. It is like handing the sugar molecules a construction manual and it knows what to do. Stirring speeds up this process (I assume this is because the 'manual' is sort of distributed evenly for all the sugar molecules to see). It can be a pain in the butt if you are trying to melt sugar and you accidentally stir it too much or you have missed some sugar crystals on the side of the pan and all of a sudden you are left with a semi recrystallized mess.
But if we control the size of the crystals that the syrup is using as a manual, that is one way to get the perfectly creamed vegan honey that we are after. And that is precisely what I am doing here, breaking down the big sugar crystals (by simply melting regular sugar when making the dandelion honey) and then nudging the Hunny to build up again but with smaller sized crystals. Brilliant, eh?
---
How to crystallize (cream) the Hunny
Basically there are two ways to do this. If we would just let the syrup sit, no matter the temperature, it would eventually crystallize into random sized crystals. But there are ways to control the outcome and also speed up the process. Natural crystallization definitely gave the smoothest Hunny – a characteristic that is passed on to any Hunny that you seed it with – see picture above. The powder seeded honey yielded a melt-in-your-mouth type graininess which you get from some honeys. Regular stirring may have smoothed it out further but I didn't do that this time.
We want the temperature to be between 10°C (50°F) and 18°C (64°F) with

14°C (57°F) aparently being the optimum.
1) Natural Crystalization – most convinsing texture
…is where we control the environment and the process to let the perfect crystallization (hopefully) spontaneously occur. The most important thing is keeping the right temperature and water content. Also by stirring the Hunny once in a while, we are constantly breaking down the crystals that are forming, into the smallest possible crystals, in fact so small your tongue can't detect them. Stirring also speeds things up so instead of months, this should only take days or weeks.
Divide the dandelion honey into smaller batches. Place the jars chilled. Mine ocured spontaneously at about 11° (52'C) which still yielded a perfect consistency.
If you want a free lesson in patience wait and do nothing. If not, gently stir the hunny for about 30 seconds daily. Making sure you scrape down the sides where the crystals will turn to start forming.
Most likely, it will look like absolutely nothing is happening at first, like maybe a week. Then suddenly it starts getting a little cloudy and you wonder if the jar you used was actually clean or not. It probably was, it's just crystals forming on this side of that makes it look a little dusty. From this moment will probably only take a few days before the batch is completely set. The day you can tilt the jar and the honey stays still, don't stir anymore. Eat as it is or leave it uncovered for further time to firm it up even more.
I've had batches in the fridge that spontaniuosly started crystalizing after months (without stirring). So have patience 🙂
2) Crystallization through seeding – less convincing texture
This is where we seed the syrup with the right sized sugarcrystals as a starter. If you have a batch of perfectly formed/crystallized dandelion honey, this is a perfect starter for seeding.
Another method I tested was to take regular light brown cane sugar and grind it into a fine powder or crystals to be technical. I read that some honey producers use powderd honey crystals as a starter, so I figured why not. I tested with sugar that I had pulverized in a coffee grinder. 
PS I am not 100% sure if this sugar was dissolved in the syrup and what happened was actually just natural crystallization that would have taken place without the addition. But I think it was seeding, and here is the result:

 

When seeding you want your starter to amount to 10% of the total weight

So if your syrup at weighs 286 g you need to add roughly 28.6 g.

(To be precise you multiply with 0.11 – so to your 286 g you would add 286×0.11= about 31 gr)
Vegan creamed honey through seeding
Note that if you are measuring your starter powder in volume (spoons or milliliters) you can't use the method of multiplication with 0.11. You need to weigh it. If you are using an already creamed honey as a starter, you can use a volume measurement. So to a batch off 240 ml you would ad just about 24 mL
Giver:
ABout 7.5 dl or 3.2 cups
Ingredienser
You need
A batch of dandelion honey app. 7.5 dl or 3,2 cups

And as a seeding starter you need either
a) Powdered sugar (from regular white or light brown cane sugar)
If the dandelion honey weighs 1100 g you need 110 g of sugar.
Pulverize the sugar into a fine powder. You should get 1 cup of powdered sugar from ½ cup of sugar.
OR if you have it
b) Some already firmed Hunny
10 % The weight in seeding hunny: If your hunny weighs 980 g you need 98 g of seeding hunny. If it's 750 mL (3.2 Cups) you need 75 mL (1/3 cup) of seeding hunny.
Metode
Both your dandelion syrup and the seeding starter should be about room temperature. If it's too hot, you risk melting the starter crystals.
Add the seeding hunny or powder to a bowl. Stir in some of the liquid dandelion syrup to make it smooth. Stir it till it looks completely even in color - this may take a couple of minutes. I recommend doing this by hand and if using a machine do it gently so you don't stir too much air into the mix.
Poor in the rest of the syrup and continue to stir until it is evenly distributed.
Divide into smaller jars and set them aside chilled (about 14C or 57F) until the crystallization has taken place. In my experience the crystallization takes place very fast (about 24 hours) so it shouldn't be necessary to stir it but otherwise do it for about 30 seconds each day.
After it has set, you can still leave it only covered by a cloth, to let more water evaporate and get a firmer consistency through lower water content.
Tips
- Chilled environment: It needs to be between 10°C (50°F) and 18°C (64°F) and as close to 14°C (57°F) you can get. If your refrigerator has a vegetable drawer this will often be perfect. Or check your garage or a chilly garden shed, they might work.
---
If crystallization fails
Wrong crystals and/or split honey: If for some reason, your syrup has started crystallizing into very big crystals there are different ways to salvage it.
1) One way is to re-melt everything and start all over. I found the best way is this: The syrup must be in a heat resistant jar like glass for instant. Boil some water and pour it in to a pan place the jar of semi crystallized syrup in it. Let it slowly melt over the course of a couple of hours. Now you can start over again making sure the temperature is right and maybe even stirring the honey to control the size of the crystals. And hopefully you will get the perfect result this time.
2) Another way is to break down the big unwanted crystals into smaller ones. This can be done by placing the crystals in a clean mortar and pestle simply grinding the mess into is fine crystals as possible. Pour the syrup back in the jar and let it crystallize properly on its own. Theoretically you could use a blender for this but I haven't tried how this works and don't know if the blender is able to get to all the big crystals. This would probably work great as seeding honey The powder seated honey yielded a melt-in-your-mouth type graininess which you get from some honeys. I would suggest only using this batch ass starter/seeding Hunny, since there may be a reason to believe a high water content was the reason it didn't set perfect and then it would probably not get firm enough even after further crystalization.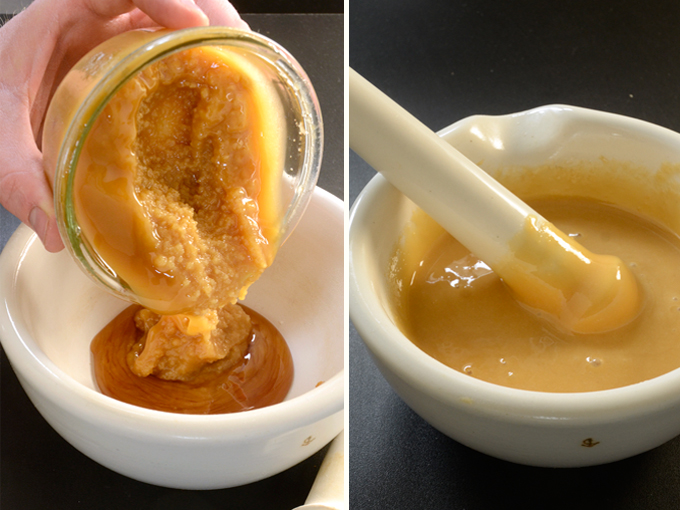 If crystallization won't take place
Crystallization can take place within days or weeks or if it's naturally occurring even months. If nothing has happened at all in about three weeks, you may want to start troubleshooting.
The water content of the syrup may be too high. Adjust it according to the Tips in my recipe. The temperature may not be right for crystallization to take place. Keep it between 10 and 18, the closer to 14°C (57F) the better. Your sugar or the flowers that you used may have a different ratio of different sugars, and are therefore acting in an unpredictable away. Lastly, there is the water content a.k.a. sickness. The consistency of it is described further in my dandelion honey post. Or you used alternative ingredients other than those in my recipe and there is a hidden factor that you were missing. Or maybe the temperature at which the syrup is being reduced is actually important for for the crystallization, and I just happened to hit the perfect temperature without knowing what it was. I'm sorry but if those suggestions don't help, I don't know what went wrong 🙂 In that case I encourage you to read both blog posts from start to finish – there may be important details you missed the first time.
---
This recipe or guide is based on my experience through numerous attempts at 'honey' making and the research I have done Reading articles on crystallization and watching countless YouTube videos on honey and bee keeping in the last year. I am no expert, but I hope to inspire you to play around with it and hopefully making it even easier for some to go vegan. I will be updating the post with pictures and additional information as I go through more experiments.
I hope this is enough to get you going – good luck and enjoy your vegan creamed honey 🤗