I will never forget the first time I tasted Vienetta. I was born in 1979 so I grew up in the 80's when the ice cream revolution happened. There were only three different kinds of store bought card bard boxed ice cream available. In the world. To my knowledge. It was vanilla, 'rainbow' ice cream, and nougat. And then came the Vienetta. We were sitting in my sisters room with yellow, blue and gray dots on the walls. I don't recall the occation, but it must have been  something big for my parents to actually buy a Vienetta. Come to think of it, it might even have been some guests who brought it. Anyways, the packaging, the unwrapping, the curled ice cream, the crispy thin layers of chocolate, it was beyond this world.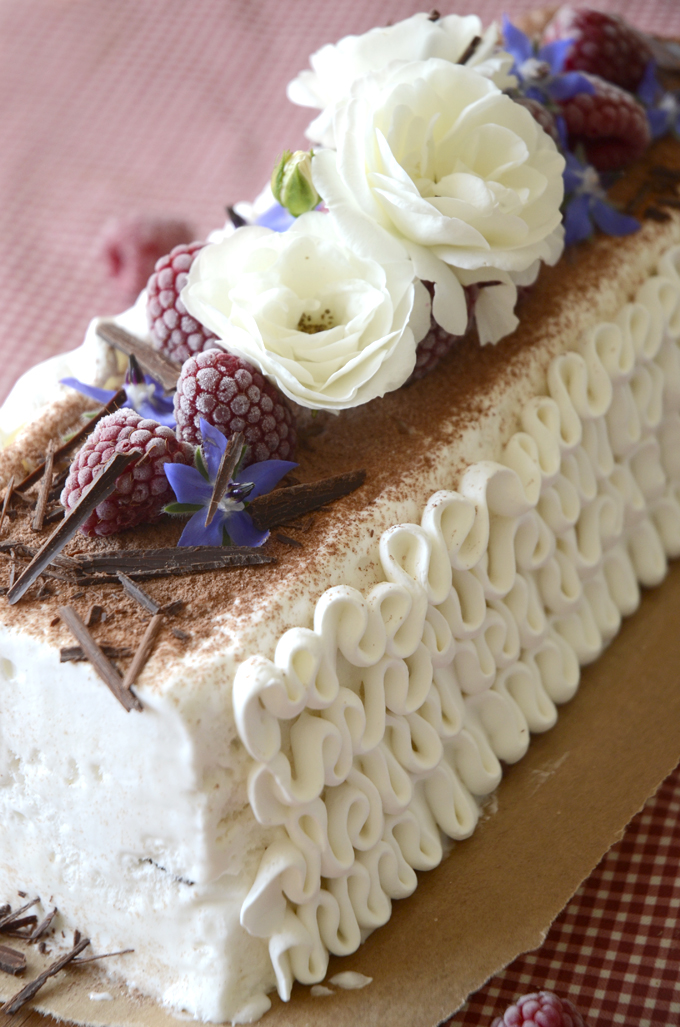 The idea of making my own Vienna started at a failed attempt to make my chocolate coated marshmallow treats. The fluff failed so I threw it in the freezer after stirring in the chocolate I had already melted. This resulted in a an extremely sweet semi fredo kind of ice cream with crispy thin chocolate strings (picture for proof). My brain immediately thought of Vienetta! But it wasn't layers, like in and actual Vienetta, it was just strings. And so for two years my brain has silently been working on this recipe. Things started coming together when aquafaba was discovered in 2015 which made it easy to make a vegan ice cream with only three ingredients one of which directly replaced egg whites. I used this danish recipe. So now only the thin chocolate layers needed to be reproduced. Then one day my brain yelled out 'how about using chocolate thins!?!'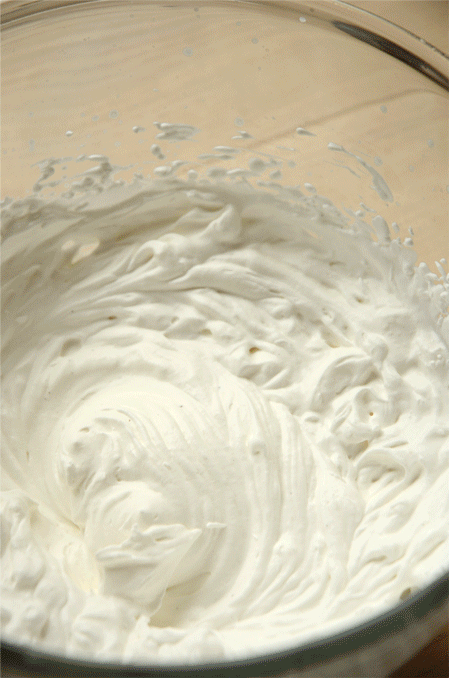 Regarding the chocolate
In Denmark we have a thing called pålægschokolade. And aparantly it translates to 'sandwich chocolate thins' or 'Dark Chocolate Topping' or similar. It is big, wafer thin flakes/plates (?) of crisp, dark (or milk) chocolate that you put on buns or rye bread preferably with butter under. It's sort of our equivalent of Nutella. I've used it in the Vienetta pictured in this post, and it is definetly the easiest way to get your chocolate layers. But since I'm pretty sure we are the only country that has it, I have a couple of options for you to work around that:
♥ Use liquid chococlate ♥
But Nina, how am I ever going to be able to pour it into those perfectly flat, thin layers of chocolate? Good news – and bad: You don't have to! And you probably can't 😉 Luckily, perfection is not a necessity for success in this recipe. Anything that resembles thin layers of ice cold crispy chocolate will satisfy your taste buds, and I'm sure they won't complain when biting into this one. My former mentioned marshmallow ice cream failure taught me that. So don't panic up front – you can do this! See picture below the recipe.
OR
♥ Make your own sandwich chocolate thins ♥
It is actually fairly easy to make your own chocolate thins. I was so lucky that when I reached out to the brilliant Katrina over at Plantified, she happily took on the challenge of making chocolate thins for this recipe. They can be made days in advance or on the same day as the rest of the ice cream, as they solidify pretty fast. All you need is dark chocolate and some wax paper. Recipe is right around the corner…
OR
♥ Buy that pålægschokolade ♥
If you are keen on trying the palaegschokolade, the kind I use (from the brand Tom's) is vegan of course and happens to be exported to all over the world through online shops that sell Scandinavian or Danish food. For UK citizens someone was kind to pass me this link, New Zealanders, get a different brand but confirmed vegan version here. If you are in the US, check out this link (if links turn out blank, check again later when they've stocked up). You can even get it on eBay and Amazon. Disclaimer: I have no experience with either of the above mentioned shops (nor do I make money from your purchase) – check for shipping price etc. and shop at your own risk 🙂 Did you find it somewhere else? Please share a link in the comments to help fellow Vienetta-cravers 🙂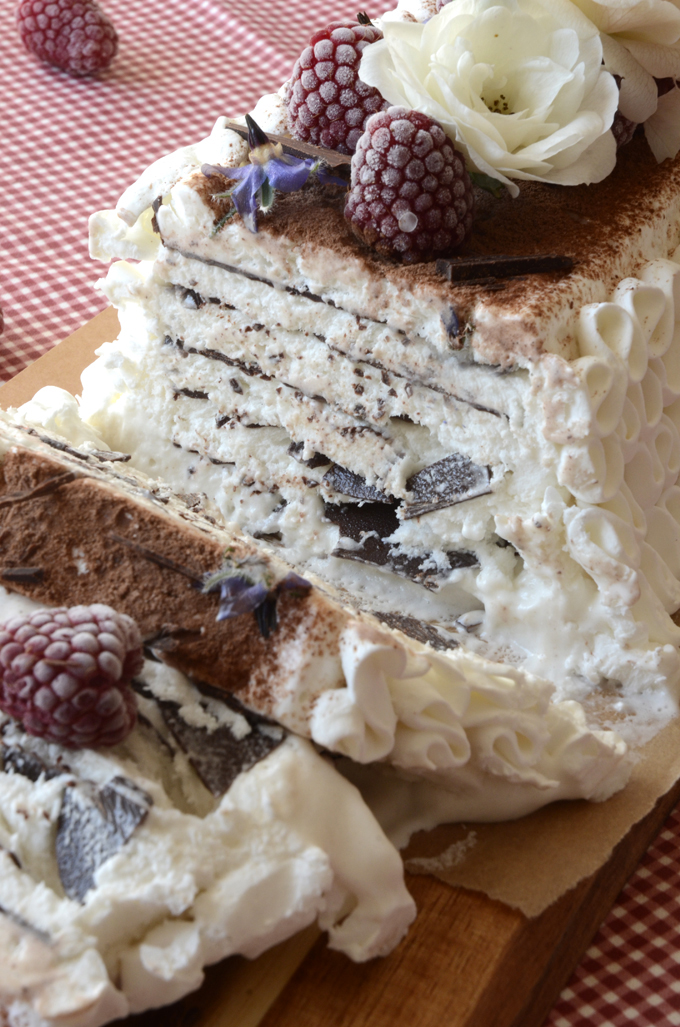 The decoration
And then there's the decoration. I didn't look at any pictures, but just tried to recreate the Vienetta I was picturing in my head. So definetly no lookalike, but you still get it, right? 😉 First I sifted some homemade cocoa powder on top. For this occasion you can just mix unsweetened cocoa powder with confectioners sugar. A lot of brands made for stirring into hot milk are vegan, but be sure to check the ingredients. Next is thin slices of dark chocolate, cut with a big sharp knife. On top of that frozen raspberries, that we picked on a local organic farm a couple of months ago. Other smaller frozen berries could be used, but I wouldn't use frozen strawberries as they are too big and won't thaw in time. Fresh berries in all sizes would be nice too! Up on till this point you can decorate and still put the Vienetta back in the freezer.
The blue flowers are Borago Officinalis (aka the food photographers dream as they bloom for about 4 months) and the white ones are roses.
And then there are the waves. The folded-ice-cream-lookalike waves on each side. For the Vienetta noobs asking why this is important, please see the video in the bottom of the blog post. If you are just gobbling down this sucker yourself you could skip it, but if you want it to radiate VIENETTA and truly impress your guests, you know you need it. In a narrow jar, I simply whipped 1dl (or 1/3C+1tbsp) whipping cream very stiff almost to the point of being lumpy and then sprayed it on with a petal nozzle (∼1cm or 1/3 inch wide), wide side facing the ice cream. It was my first attempt, and it went very quickly, since I didn't know if it would melt. So don't be discouraged if you think it looks hard, look closer, it is nowhere near perfect. You pipe it on just before serving. If you freeze it will taste crystallized. Neither a catastrophe nor a pleasure to eat, so if you don't have the option to decorate just before serving this as an option.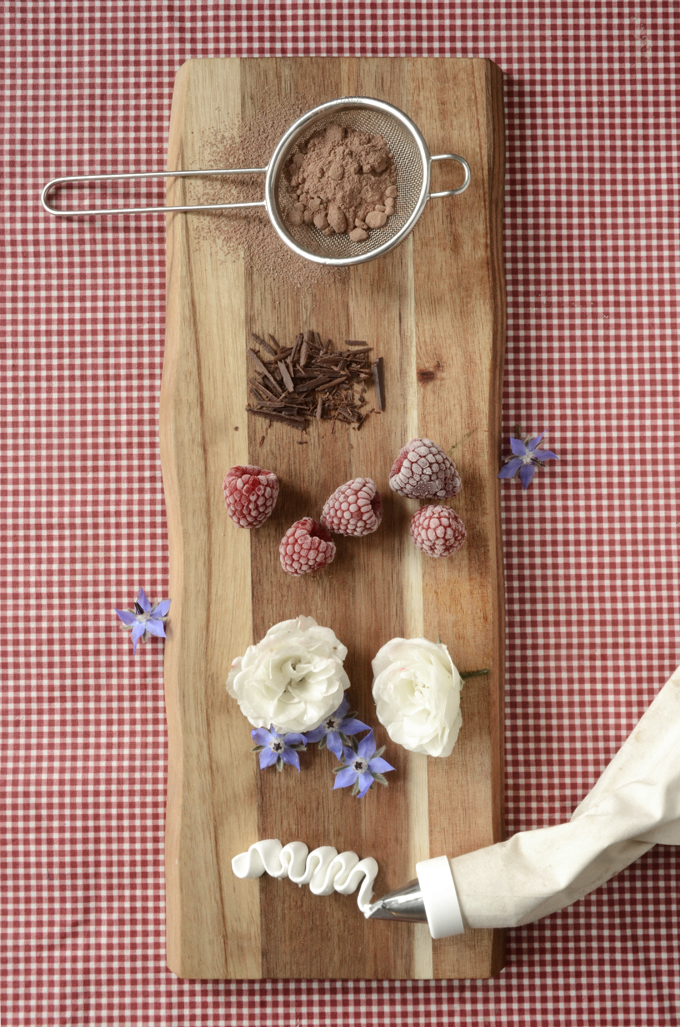 Regarding the sugar
I prefer to grind my light brown cane sugar and a coffee grinder and that way making my own icing /powdered sugar. I tried making the ice cream with regular granulated sugar (which is white, small but not pulverized crystals that are bigger than caster sugar crystals). The problem with using this size of sugar grains is that you have to whip the aquafaba a very long time for the sugar to dissolve. This results in a very fluffy almost stiff meringue that makes for a very light and not very dense ice cream. So I recommend powdered sugar. Caster sugar might very well work, but we don't have it readily available in Denmark, so I haven't tried it myself. If you try it, pay attention to the consistency of the meringue and please let me know in the comments how it went 🙂 To learn the differences in the sugars I'm talking about, go to THIS elaborate, illustrated sugar explaining post.
Regarding the aquafaba
I used aquafaba from chickpeas and there is not a hint of beans left in the final Vienetta. If you are afraid to have a beany taste, you can always go for a lighter bean such as lima, butter bean, white beans etc., they generally taste less beany. If you have a fairly gooey aquafaba there is no need to reduce it. As mentioned earlier you don't want the meringue to become too stiff or fluffy so don't worry about perfect, thick aquafaba. The consistency you get from canned beans is perfectly fine. If making your own, you might want to reduce it if it's very watery.
The loaf pan
For reference my loaf pan (used in the pictures) meassures 7 x 22 cm in the bottom and 10 x 25 cm at the top (height 8cm). It is a silicone mold so if you are on a desserted island and can't get wax paper, you could get away with not lining it. But the paper definetly gives your ice cream a prettier surface, and you are guaranteed that bits of ice cream wont break off when you remove it from the pan. If not using a silicone pan, you definetly need the wax paper. I used one piece of paper going across the sides and over the bottom. And two small seperate pieces that are just covering the ends. The paper is neatly folded, to better stay in place so it dosn't move around too much when adding the ice cream mass.
 3 – 2- 1 – go vegan Vienetta!
Homemade vegan Vienetta - no-churn ice cream cake with thin crispy chocolate layers
I use Alpro Airy Creamy. Other vegetable whipping creams might yield a crystalized ice cream due to a lower fat content in the cream. Following the recipe there should be absolutely no crystals in your Vienetta.
Ingredienser
250 mL/1 cup of whipping cream (I use Alpro Airy & Creamy)
150 gr icing/confectioners sugar
1/2 tsp of vanilla sugar or extract
1/2 C +2 TBS of aquafaba

The chocolate layers:
If you can't get your hands on one package of pålægschokolade: Make a batch of homemade ones. OR prepare the liquid chocolate: Chop 120 gr (4 oz) of dark chocolate rather fine and melt it Baine Marie (aka water bath). Mix in 2 tbsp of neutral tasting coconut oil. Store it just above room temperature so it ´doesn't solidify until you need it in the recipe.


You will also need a loaf pan that holds about 1,5 L (6 cups)
Metode
Start by getting all the small details ready so that you pretty quickly can throw the ice cream together and get it in the freezer: Get your loaf pan lined with paper and make sure there's room for it in the freezer. Strain and measure your aquafaba. Measure or/and make your sugar, sift it if its very lumpy. Melt your chocolate if using liquid or have your chocolate thins ready-made. Make sure your whipping cream is chilled and pour it in a large bowl (narrow is better than very wide). And get your beaters out. Now you are ready:
The ice cream
If you are using vanilla extract you can add it to your aquafaba and whip them together. (If using vanilla sugar (powder) you need to add it to your whipping cream instead). Whip your aquafaba. When the aquafaba is stiff - not wobbling around when you gently shake the bowl - it is ready for some sugar.
Start adding the sugar 1 tablespoon at a time while whipping untill all sugar is dissolved. The final meringue mass should be glossy, fluffy and thick but still pour-able. You don't want it as stiff as for meringues. (See GIF above for reference).
Now quickly wipe your beaters clean and whip the whipping cream (with vanilla powder if not using vanilla extract in step 1).
Now stir the whipped cream with your spatula once to loosen it and pour the meringue on top. Fold them together using your spatula: Cut down the middle and fold it over wist your bowl and repeat until it looks like a uniform mass. We want them mixed but we also don't want to get rid of all the fluffiness.
If using chocolate thins/pålægschocolate
Scoop some of the ice cream mass into your pan, even it out a bit and aim for it to be somewhere between 1/2 or 1 inch in height before adding the first layer of chocolate. Press them down gently and scoop over the next layer of ice cream making sure you get ice cream into all the corners and edges...
If using liquid chocolate.
Scoop some ice cream mass into your loaf pan and even it out so it forms a pretty flat surface and make sure the edges go up just a little bit so the chocolate won't pour down the sides. Now take 2 tablespoons of chocolate and distribute it over the ice cream. Remember, it doesn't need to be perfect just even it out a bit.
Drop 2-3 scoops of ice cream on top of the liquid chocolate layer and gently even it out to make another flat layer without stirring too much into it ans ruining the chocolate layer underneath.
And then:
ontinue with the rest of the ice cream and chocolate make sure you your last layer is ice cream. Hopefully you will have just a tiny bit excess ice cream so that you can scrape off the bottom to even it out perfectly.
Put the loaf pan in the freezer and let it sit for preferably 24 hours at which point it should be firm enough. Turn the loaf pan upside down on your serving tray and gently remove the pan. Genlty remove the wax paper and there's your Vienetta! It melts quicker thatn ordinary ice cream so put it in the freexzer until you have all of you decoration stuf ready. Take it out just before serving and decorate (see tips regarding decorations further up in the blog post).
Serve and Rejoice!
Here's a version made u
sing liquid chocolate. It was my first attempt and I didn't cover the edges (at all) as described in the recipe, so the chocolate went to the bottom a little as you can see (I know, booh hooh, a big fat chunk of chocolate that you just HAVE to eat…). But the mouth feel of the thin layers was very Vienetta-y!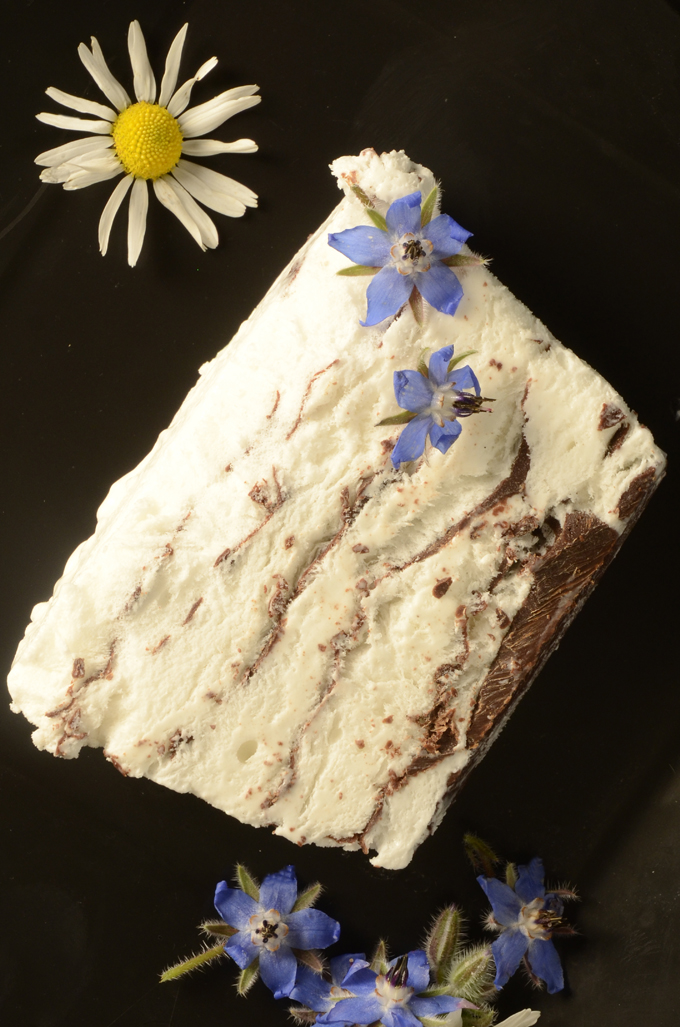 "Ehrm…what IS Vienetta?"
For those of you who don't know what Vienetta is: First of all I'm so sorry for you. I'm sure you've had other joys in your life growing up. But don't worry, this recipe is here to give back what you never knew you craved. Here is a video showing how Vienetta is produced. Bare in mind, if you already know Vienetta, watching this it is a bit like finding out (spoiler alert) that Santa doesn't exist. I don't know how I imagined it being made, but certainly not like this: