Ever since a man named Goose revealed to the vegan world of food that you could whip a can of bean water to meringues just by adding sugar, we all knew it was just a matter of time before someone made a vegan version of Tunnocks tea cake. Well, it has landed.
EDIT: I originally developed this recipe for The Worlds first vegan Tunnocks Tea Cakes aka Chocolate coated marshmallow treats in march 2015 (original post in Danish here) only a week after the great aquafaba discovery (yes I slept in the kitchen that week and yes my prolonged sugar coma has worn off by now). I actually refer to aquafaba as l'egg somewhere in the original recipe, a name that was also in play before the aquafaba comminity settled with the name aquafaba. But now I managed to make an actual English section on my blog, and that's why It's being converted it into a slightly updated blog post 🙂

Chocolate coated marshmallow treats or Tunnocks tea cakes, actually originate from Denmark (where I'm from) and we call them 'Flødeboller'. Flødeboller is a huge thing over here. It's the first – though not very creative – choice to bring whenever you ned to 'bring something' in case you have something to celebrate at your workplace, school, kindergarden etc. And you don't easily get away with not eating them. It's like saying "no thanks I don't drink" if someone offers you a beer or you know "no thanks, I'm vegan"…
In the recent years gourmet versions of 'flødeboller' have ben all over the place taking the concept to new level and making them socialy acceptable again. Well as you know vegans don't eat no eggs, so marhsmallow treats have not ben easily accessible. Until bean juice aka aquafaba came into our lives. At this point I set a goal of making the perfect vegan Flødebolle-recipe. And by perfect I mean 1) Tastes like the original and 2) It doesn't require you to stock up an strange ingredients from 3 different online stores.
I made the recipe in danish but a lot of people asked for the recipe so I created this as the first English recipe her on my blog, just for the vegan tea cake lovers. You're welcome. So keep in mind this was made for a slightly different form of tea cake but it can easily be tweaked. I wanted to make the recipe as simple as possible, so i left out glucose, which is often used in Flødeboller. It seems it is mainly there to keep the foam (hence forward called fluff) from separating – over time! Yeah, thats right, feel free to laugh at the idea of a vegan finally in front of a pile of vegan Tunnock's tea cakes NOT eating them all in one sitting :'D We all know that's not gonna happen, so feel safe to omit the glucose.
Looking for an acid that would help stiffen the fluff I started out with lemon juice. It did the job but only in a way that required quite the patience and well skills, and I hate putting up a recipe that I know only a few percent of my readers will have the patience to succeed with. But I got inspired by groups like Vegan Meringue – Hits and misses, where everyone seem to be using Cream of tartar. I had no idea what this was, but found a Danish equivalent (citronsyre). It took the fluff to a whole new level of fluff awesomeness!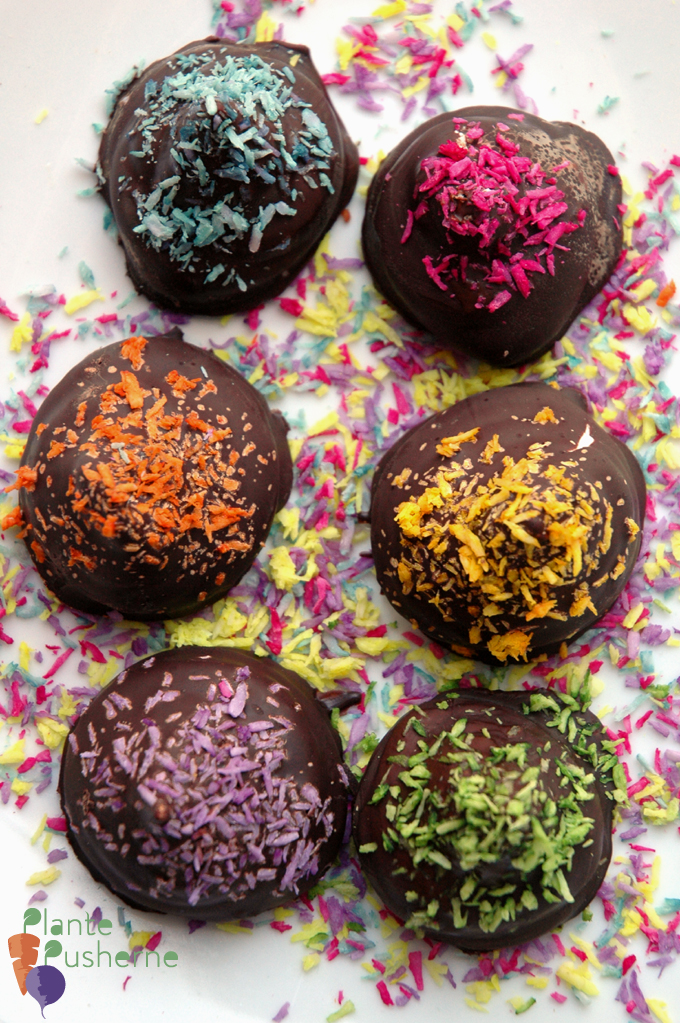 When you taste the fluff on itself it will have a hint of beans depending on what kind you used. But when you dip it in dark chocolate and put it on a piece of baked marzipan (meanwhile shedding a tear of gratitude) well you can't taste it.

How to make chocolate covered marshmallow treats
Let's start from the bottom(s). In the name of simpleness I used marzipan. But you can use any kind of bisquit that helps you recreate your childhood memory of a mallowmars and opt to coat it with a thin layer of melted chocolate, to make it stay crispy. If using marzipan roll it out flat and cut out in the size you prefer. Don't go too big though. It will get covered in fluff and there are limits to how tall you can build the fluff. If you make them big though, just aim for less tall treats. I made them just over 2 inches for Flødeboller. Adjust to the size of your childhoods equivalent of the perfect flødebolle.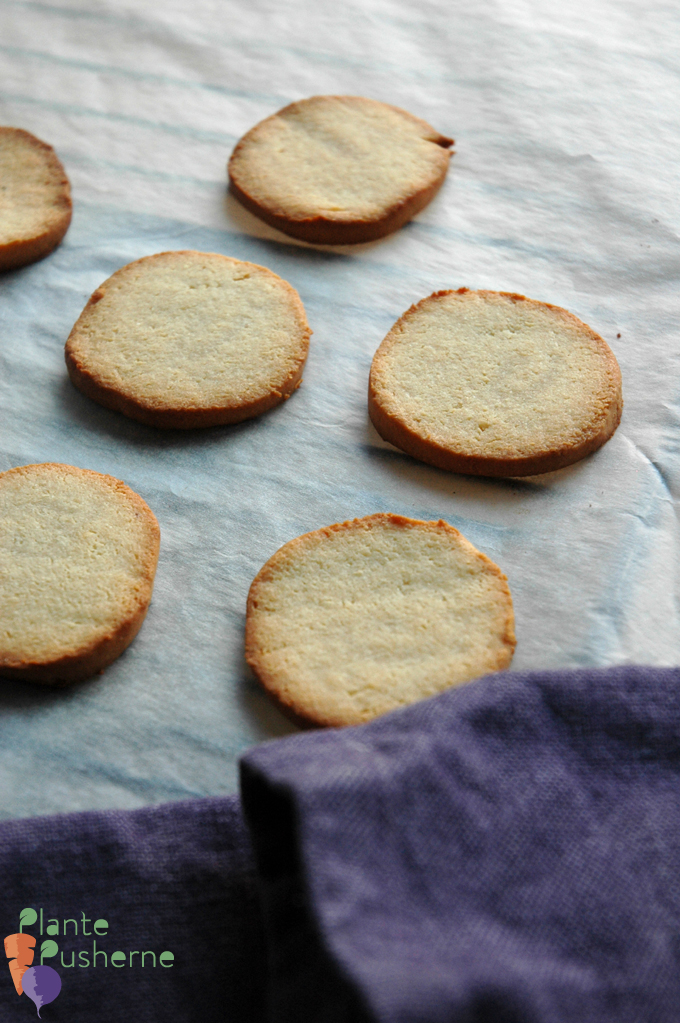 To my suprise the Tunnocks tea cake is different from the Danish 'flødebolle' in the way that it is much more flat. This is a good thing because the hardest part of this flødebolle-recipe has been getting some height into it. I succeeded – with the discovery of cream of tatar – but if making them Tunnocks low style you don't even need to worry about that.
So this is how we like'em in Denmark, but you can of course opt to go low fluff to recreate yours the way you want it. Or maybe not exactly. I would try to make it a bit pointy instead of rounded to ease the chocolate coating and to enable the fluff construction (I dub thee 'fluffstruction') to hold itself up.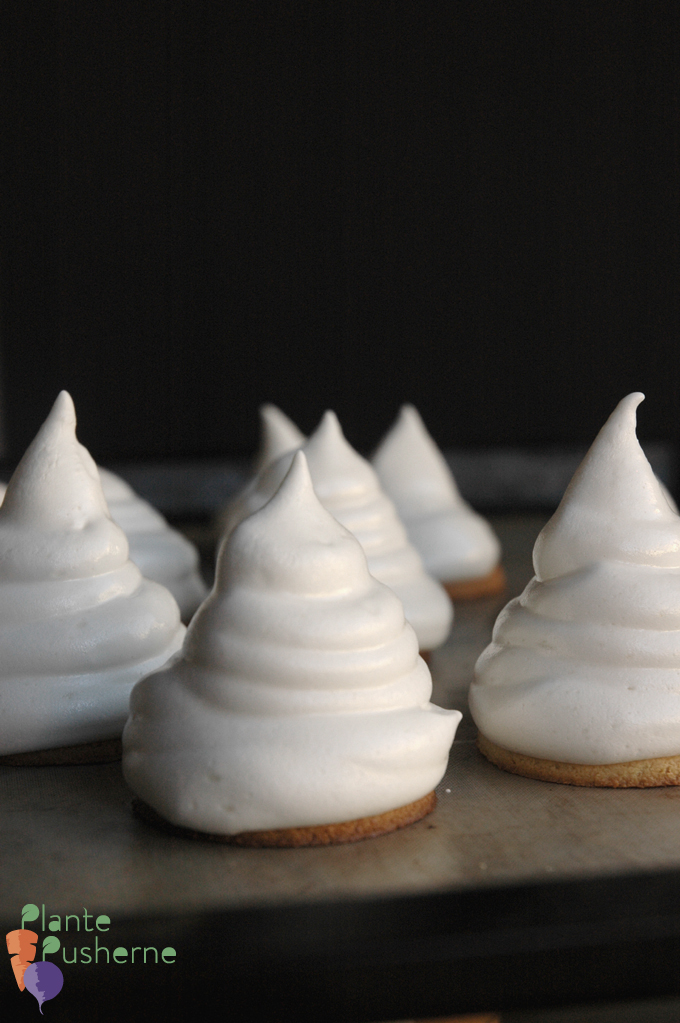 After it has rested for about an hour. Hold the tea cake on a fork and gently pour the melted chocolate over it. If you make sure both fluff and bottoms are all completely covered in chocolate, they will hold up for several days. And do try to control yourself while going through this step. I know you wanna dive shamelessly into it. But think of the reward of biting through crisp, dark chocolate into that heavenly fluff if you let them harden first. And THEN, by all means, dive shamelessly into them – after all, it's probably been a while since your last encounter.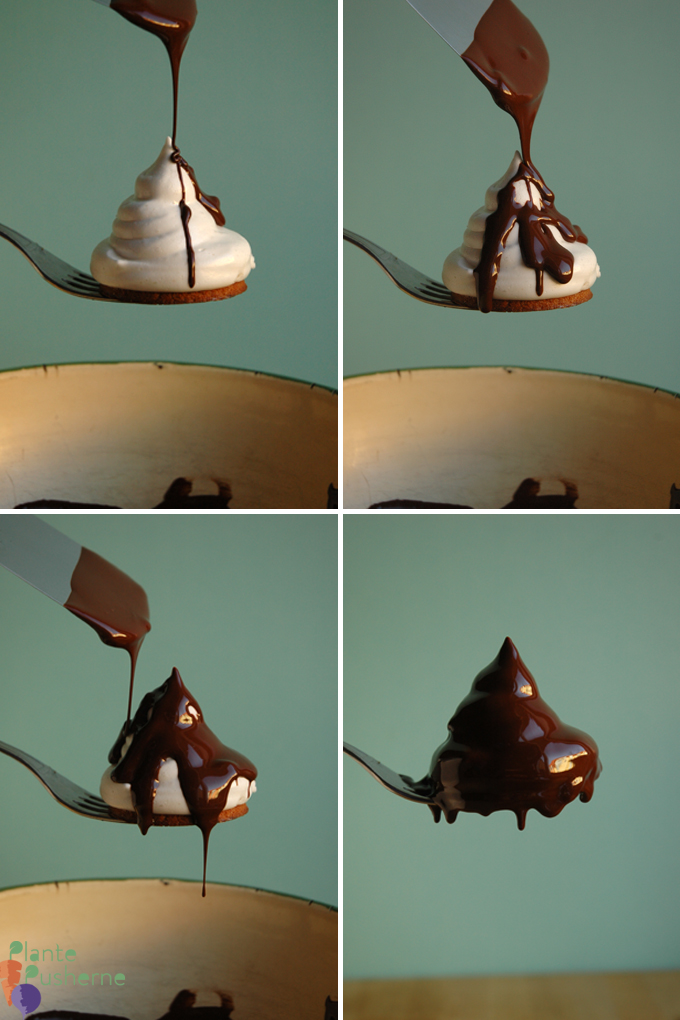 You need to melt the chocolate in the the right way so it hardens in the right way afterwards. If you are not familiar with this (it's called Bain-marie) check out this video or find other guides for it. Did it still go wrong? Here are som tips for trying to fix it.
So here are my vegan Chocolate coated marshmallow treats, Tunnocks Tea Cakes, Krembo, Mumsmums, Gräddbullar, Chocolate Kisses, Schokokuss, Flødeboller or however you like to refer to this scrumptious little gem. Feel free to comment and enjoy 🙂
Chocolate coated Marshmallow Treats
Probably the worlds first 'real' vegan Tunnock's tea cakes (or Krembo, Skumbollar, Mums mums depending of what language you speak). They are made with a marzipan bottom, but you can make it with other bottoms as well. Filled with yummy, gooey fluff and covered in dark crispy chocolate.
The tea cakes are about 3 inches wide and a couple of inches high. A stand mixer is highly recommended (although the pictured ones are made with a handmixer)
INGREDIENSER
7

oz

(

200

gr) marzipan (up to

10

oz if you are making the bottoms wider)

1/3

cup

(

75

gr) aquafaba (you need it thick, so start by reducing about

1/2

cup or more down to

1/3

)

1/5

tsp

cream of tartar

(or

1/5

tsp of freshly squeezed lemon juice might work)

2/3

cup

(

150

gr) sugar

(I used a light brown and granulated canesugar, fluff still went white.)

3

tbsp

(

50

ml) water

7

oz

(

200

gr) dark chocolate chips

(or finely chopped dark chocolate)
SÅDAN GØR DU
Cut and bake the bottoms
Roll out the marzipan to around 1/6 of an inch (4 mm) and cut out the size you want using a cookie cutter or a glass.

Bake them untill the edges are lightly browned. About 7 minutes at 300°F/150°C. Let them cool cpmpletely on the baking tray.

OPTIONAL: If you want to coat the bottoms in chocolate: Put 1-2 pieces of chocolate in an oven safe bowl and let it melt for a couple of minutes in the oven after ýou turn it off. Use this to cover the bottoms.
Make the marshmallow fluff
NOTE: Make sure your bowls and utensils are clean, dry and have no soap or grease residue. These things can prevent the fluff from getting stiff. Use a glass or metal bowl and wipe it with plain old white vinegar just to be sure. Put the aquafaba in a bowl with the cream of tartar and whip untill stiff and then add a teaspoon of sugar. Whip it for another 10-15 minutes depending on your equipment. It should get very firm, so firm that you can almost slice it.

1/3 cup (

75

gr) aquafaba,

1/5 tsp cream of tartar

Bring the sugar and water to a gentle boil. If you have a thermometer let it boil untill it reaches 242°F/117°C. If you don't own a thermometer, let it boil for exactly 2 minutes. Don't stir it more than a couple of times, or it might re-crystalize. You should get a clear syrup from this.

2/3 cup (

150

gr) sugar, 3 tbsp (

50

ml) water

Place the bowl of whipped aquafaba on a bag of frozen peas or the like to help it coll. While whipping it, slowly pour in the hot syrup until fully incorporated. Now whip for about 10-15 minutes untill it gets cold, rather stiff and feels heavy. STOP! It should be almost cutable consistancy by now.
Pipe the fluff onto the bottoms
… immediately after it's done.

Here comes the fun part! Fold the sides of a spritzing bag (I just used a regular freezing bag) almost all the way down and scoop in the fluff. Use a big star tip for better structure. Avoid getting too much air into the mix. Pull up the sides and if using a regular freezing bag cut a hole at the end that will be around 1/4 of an inch (12 mm) wide. Make it as round as possible as this will make it easier to apply the fluff. Make sure not to heat the mix with the heat from your hands.

Hold the bag vertically over the middle of the middle of the bottom and cirkle your way out but don't go all the way to the edge (the weight of the fluff will push it out there). Now spiral upwards making gradually smaller layerers on top of the previous. Aim for about 2,5 inches (6 cm) in height.
Let them dry
Let them dry at room temperature or a little colder to 'harden' the surface for about 1 hour before you coat. If the fluff is pretty soft you might want to put them in the freezer to help maintain their shape. While you wait, prepare for melting the chocolate and try to time it, so it will be ready for the coating.
Coat with the melted chocolate
Melt the chocolate gently Baine Marie so it will harden up to a crackable consistency afterwards. I suggest only melting half of it at a time. So if you overheat it or spill water in it only half the batch will be ruined. Hold one tea cake on a fork over the bowl of melted chocolate and gently cover all parts of fluff (leaving parts uncovered will make it prone to deflating and separating). Let it drip while counting to 10 and put it back on the lined baking tray to set.

7 oz (

200

gr) dark chocolate chips

The consistency of the fluff seems to get better after it sets. So you might want to leave a couple of tea cakes at room temperature untill next day and be in for an even greater treat! (Yeah I know, good luck with leaving them alone…)
To make them more festive I sprinkled som home dyed coconut flakes that I made with fruit and vegetables juices.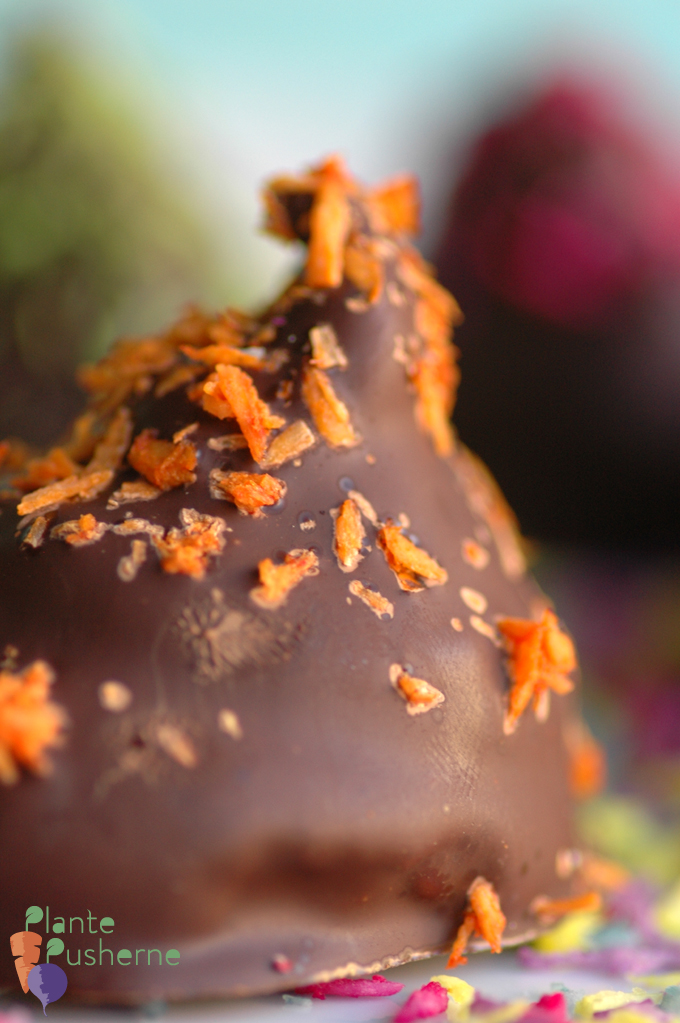 And once again thanks to Goose Wohlt and Joël Roessel for stirring up vegan kitchens all over the world by encouraging us to beat up some bean juice. It is truly the beginning of a new era of vegan cooking <3 Please join the aquafaba fun at Vegan Meringue – Hits and Misses.