So vegan prawn crackers… For some reason this was one of the things I first started wondering if I could veganize when I went vegan 5 years ago. Strange since I've only ever tasted prawn crackers once or twice in my life and that was about 20 years ago. Well aparently they made a lasting impression. Must be their unique almost naughty crispy texture, that apparantly could only be achieved by grinding up and frying prawn shells right? Well, no, not so right. I never thought the answer would be THIS simple! *happytears*
The first time I saw rice paper being used for anything other than spring rolls was back in 2013. One of our very creative vegan bloggers, Thor, put a recipe on his blog starring faux pork rinds. They were made by dipping rice paper and adding at butt load of salt before frying them. Next year one of our biggest vegan bloggers Kærlighed & Kikærter (Love & Chickpeas) thanked Thor for inspiring his version of the idea, even suggesting adding flavor like umami and smoked paprika (or liquid smoke) to make the the pork rinds to taste like actual pig skin for those who miss the taste of bacon which he personally prefered not to do. Anyone who has made bacon from tofu, seitan, shiitake mushrooms or other know what simple measures it takes to add bacon flavor to stuff. If you haven't been living under a rock for most of 2016 you can probably guess what these two recipes inspired? That's right, the brilliant rice paper bacon. But rice paper can do even more for you.
Danish version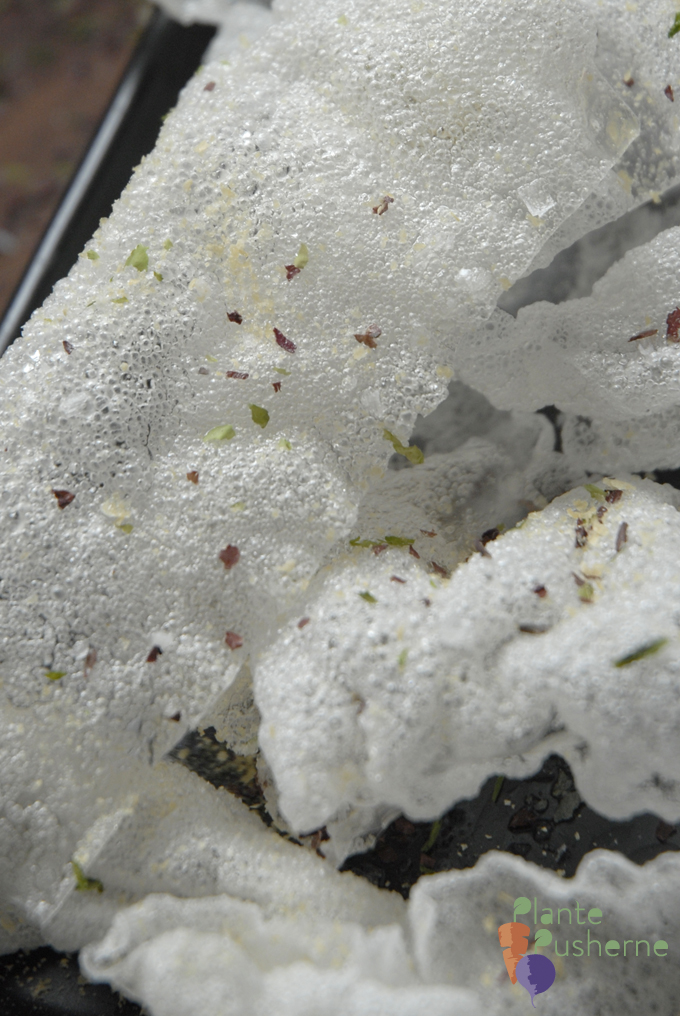 In my early search for vegan prawn cracker recipes I stumbled upon this nicely looking but rather complicated recipe, that I never got around to test. And then just this morning the answer was served to me on a silver platter when someone in the Swedish version of What Fat Vegans Eat (yes, it's a facebook group – original post here) showed how rice paper acts when fried directly from it's dry state. Turns out it puffs up like papadums and it totally looked like prawn crackers! Two seconds later of course my newborn for the first time in a week fell asleep on top of me and I had to sit through 45 agonizing minutes before I had the chance to get up and test. And when I finally did: Amazing result! Absolutely perfect texture! The taste is so convincing, you actually start to wonder if shrimps are actually made of rice?!
I only had square rice paper and cut it circles just to make it look real. 
That turned out to be pretty unnessecary since they curl up anyways. So cut them or don't, sprinkle with  
salt and enjoy! If you want, add powderized nutritional yeast and nori or kelp for that extra umami and sea flavor.
Don't worry if a few spots are left un-puffed, they will still be edible. And if you're not being cheap with the oil like me, you wont have this problem at all. Here goes: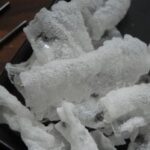 Udskriv
Vegan Prawn Crackers
Theese can either be oil fried or made in a microwave for a less oily version. I haven't had the chance to test the latter. There'll definetly be a difference in taste and the original prawn cracker is ususally oil fried.
INGREDIENSER
Rice paper

Oil if frying

(preferable coconut oil or use a microwave.)
Optional
Nutritional yeast and nori powder or kelp.
METODE
Cut the rice paper in smaller pieces or fry them whole if they fit your skillet to make giant prawn crackers.
If deep frying:
Heat the oil until very hot. Test with a small piece of rice paper. It will fry up immediately if the oil is hot enough. If it remains transparent and glass like the oil is too cold.

Fry the rice paper for 10 seconds or until it's fully 'puffy'. The entire piece should be covered with oil. Add more oil as needed.

Pick them up and leave to drip on paper towels.

Sprinkle with fine salt and/or powderized spices.
If using a microwave
Lightly coat the rice paper with oil and nuke a couple at a time (one layer only) at high heat untill fully puffed.

Sprinkle with fine salt and/or powderized spices.
TIPS & NOTER
- The best way I've found to get spices to stick on dry things like air popped popcorn - and now vegan prawn crackers - is to grind the spices with salt in a coffee grinder and sprinkle the 'dust' (you get from the thorough grinding) on top.
- Different brands of rice paper might yield different results. You can see the kind I'm using in the short video in the blog post.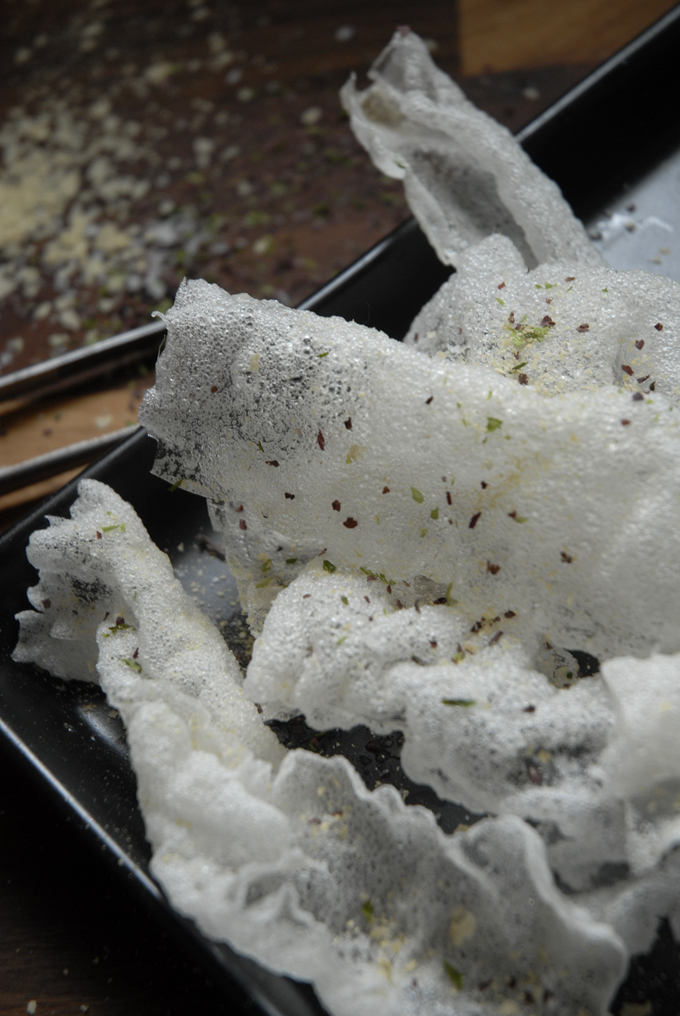 Thanks Cecilia for the inspiration 🙂